You're an expert at feeding your baby milk but now it's time to move on.
And while there's no shortage of information available to help you, separating fact from fiction can be a minefield.
RESEARCH ONLINE – But no two pages say the same thing! And you'll probably be overwhelmed by all the conflicting and confusing advice
BUY A BOOK – Unfortunately the information is quickly outdated and often written by unqualified 'experts'
ASK FAMILY AND FRIENDS – But what worked for them might not work for you. And could be wrong!
Save yourself time, stress and money and get all the answers you need in one easy to follow online course.
Go from confused to confident in no time at all
Hi, I'm Caroline O'Connor
Registered dietitian, lactation consultant and most importantly, a busy parent like you.
This photo is of me and Alice, my fourth baby and the inspiration for Solid Start.
While I was preparing to start Alice on solids it suddenly struck me that there had been an explosion of weaning information since my first baby eight years previously.
Information is great but what scared me most was how much of it was out-of-date, incorrect and unrealistic for our busy lives.
Since then, I've helped hundreds of parents with weaning. I while couldn't be more passionate about good nutrition for babies I also know that we don't need to go to superhuman efforts to get it right.
Get the basics right and you'll get your baby off to a solid start (see where I got the name!). And I can be right there with you with up-to-date information and practical tips.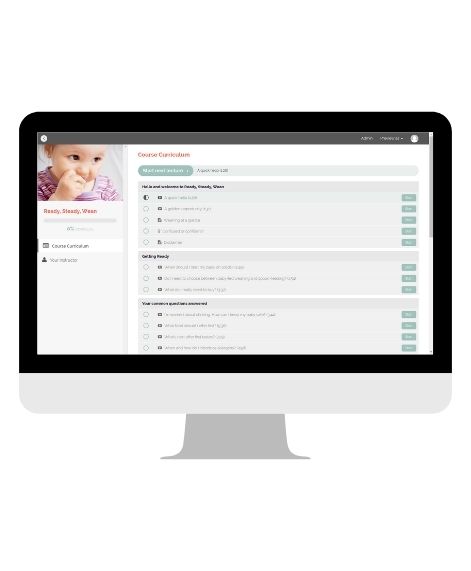 Everything you need to know including:
Knowing what equipment is essential and what's a waste of money
Combining spoon-feeding and finger foods (and being flexible)
Exploring options for first foods (vegetables are my favourite!)
Balancing food and breastfeeding or formula feeding
Understanding how to be responsive to your baby's appetite (spoiler: there are no portion sizes for weaning!).
Adapting family foods to save time and money
Introducing allergens safely and easily
Troubleshooting common challenges
Planning balanced and nutritious meals using everyday foods
Managing cows milk allergy during weaning
Modifying finger foods to prevent choking
€90
GIFT THIS COURSE
Sign up your friend
€120
COURSE & PACK
Pack (Two dipper spoons + Babycups + crinkle cutter)

I completed Caroline's online weaning course a few months ago after a difficult start to weaning with my little boy. Even though he is my second child, his older sister had taken to solids no problem so I was a bit clueless about what to do when he wasn't the same!
I found Caroline's course so helpful, it really was fantastic. She simplifies the steps in the weaning process and provides practical advice on providing nutritionally balanced meals for your baby with simple ingredients. I still refer to the printables from the course on a daily basis. She is also so helpful and prompt in replying to any questions you might have.
I also did a one to one consultation with Caroline after my baby had a reaction to cow's milk. She gave fantastic advice on the steps to follow and dairy alternatives to try while I was waiting on an appointment with a paediatrician. It was so reassuring to have that knowledge as I would have been totally clueless otherwise.
I would 100% recommend Caroline's online weaning course and one to one consultations. I also really enjoy following Caroline's instagram and always pick up more tips/advice from her stories every day. She's a fountain of knowledge and luckily shares that with everyone!
Cathy Connors

As a first time Mum I was excited for weaning but also a bit unsure. I knew I wanted to lay a healthy foundation around food for my little one to enjoy and make it stress free for both of us. The Solid Start course was fantastic for ensuring I understood how to go about weaning from the basics to progressing on with textures & allergens. We have a better understanding of what Connall's needs really are and with that comes confidence to enjoy the journey. The short snippet videos and downloads are very easy to follow in your own time and refer back to if unsure. Would recommend it to every new parent!
Sinead & Connall

"I just wanted to pop you a note to thank you! I just completed the online course and I feel so much calmer and more in control of it all. I am about 8 weeks in weaning my first baby Jack and let's just say he didn't take to food and hadn't! I had panicked and gone for a few pouches about 3 weeks ago but none since starting this – feel way better and informed about everything about this weaning journey. Super simple practical advice, thanks again"
Aoife & Jack
The only Baby Weaning Course you'll ever need

Go at your own pace with this self-guided online course
The course starts as soon as you sign up and it never expires. You decide when you start and when you finish.
You don't need to watch it from start to finish in one go. It's there to dip in and out of when you need the next piece of information.
Use it over and over again, including with your next baby. The course will be up-to-date with new information as it emerges and will be ready and waiting for you when you need it.

Nearly 100 minutes of video content will take you step-by-step through weaning from gathering your equipment, offering your baby's first bite to making their first birthday cake.
Lectures are a mix of clear and simple video presentations (generally about five minutes long) and text information. You'll also see real-life examples of babies eating so you know what to expect.
You'll have no problems working through the course quickly and easily with your baby sitting on your lap or during their precious nap time! All from the comfort of your own home (or car!).

Practical Downloads and Printables
30 downloadable cheat sheets, templates and tip sheets
Including:
Finger Food Safety Checklist
Allergen Safety Checklist
Sample schedules for the first 10 days, allergen introduction and all stages up to twelve months
Cheatsheet on dealing with constipation, food throwing and food refusal
Along with a recipe ebook with 30 family-friendly recipes for you to enjoy together.

Reliable and professional information
As a registered children's dietitian (and lactation consultant) I have reviewed the current evidence-based guidelines to bring you up-to-date advice you can trust. There's no substitute for qualifications and your child deserves nothing less than expert advice.

Imagine being able to get 3 hours with a registered dietitian for only €90
Frequently Asked Questions
[Invisible]
Your content goes here. Edit or remove this text inline or in the module Content settings. You can also style every aspect of this content in the module Design settings and even apply custom CSS to this text in the module Advanced settings.
When is the best time to take this course?
You can take it at any time. If you have a baby aged 4-5 months then it's helpful to watch the lectures which cover 'getting ready' to wean. That way you can get prepared and then dip back into the course when you're ready to start.
This course covers everything you need to know right up till your baby's first birthday.
Can I claim the cost of this course on my health insurance?
As a registered dietitian, I am recognised by ALL health insurers. So, you may be able to claim the cost of this course back under 'dietitian' cover. Ask your healthcare provider if you are covered. You will need a more comprehensive receipt in order to make a claim. So, just email me and I'll send on the correct receipt.
Can I ask questions as I go through the course?
Yes, you can ask general questions directly within the course. There's no need to join an extra Facebook Group. You'll find a comment section at the end of each lecture where questions and answers are given publicly (I answer all your questions myself, it really is like having me there with you as you go through the course.
But if you'd prefer to ask a private question, then you're free to email me at any time.
If your question is more in-depth or is something that requires an individual assessment, then you can book in for a one-to-one consultation at a discounted rate.
How do I know that the information you give me is correct?
I'm a registered dietitian and that means that by law I must give up-to-date evidence-based information. And not just my own opinion! Nutrition is an evolving science and guidelines change from time to time and may differ slightly between countries. The advice provided in this course is based on European and Irish guidelines.
Couldn't I just get this information elsewhere? Online or from my Public Health Nurse?
Of course, all of this information is available somewhere. But you'll find it jumbled up with lots of other information that's out-dated or incorrect. Without the appropriate qualifications, it's difficult to pick fact from fad.
Public Health Nurses (PHNs), Health Visitors and even GPs give some evidence-based information about weaning. However, it's not possible for them to provide this depth of information.
There are also lots of unqualified 'experts' providing advice on weaning. However, you won't know if this is evidence-based, correct or safe.
Are you ready to start raising a happy healthy eater?
Raising a happy, healthy eater Masterclass-two course bundle
(Ready, Steady, Wean + Feeding Your Toddler)