Which is the best first food for your baby. Is it baby rice, green veggies or peanut butter? I'll share the pros and cons of 5 of the most common choices.
What is the best first food for your baby?
So, you know your baby's ready to start solids. But which food is best for their first bite? Don't worry. You'll find no shortage of suggestions! Your mother might push for baby rice, sure isn't that what you were started?! But the parents online are dead set against it! And what about green vegetables?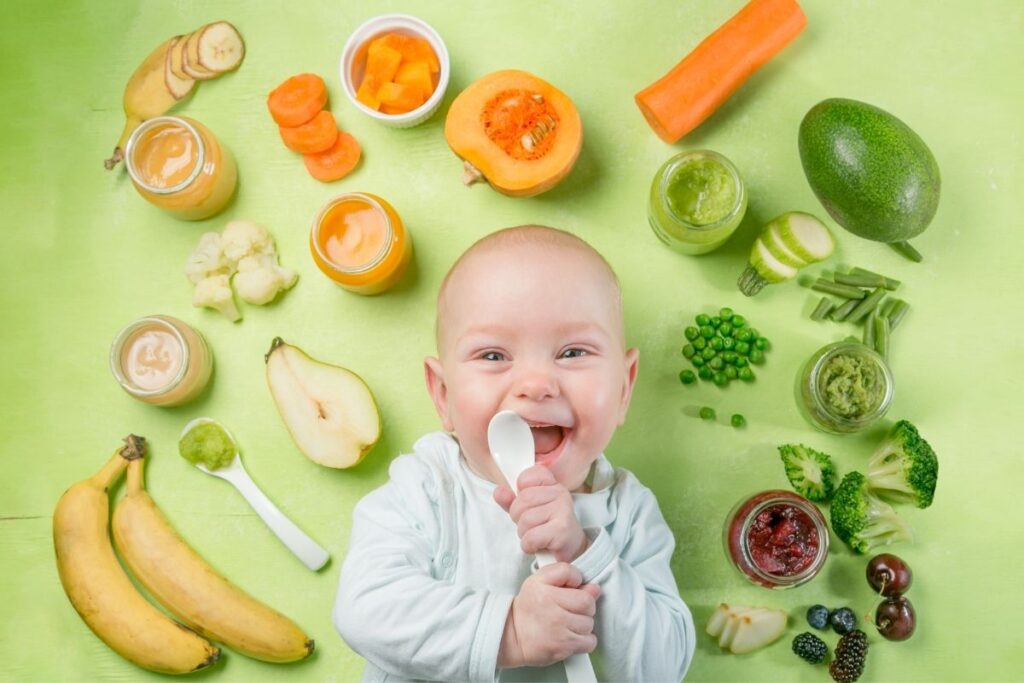 Too many first food options can be confusing!
Well, there's good news and bad news.
The good news is that there's no consensus on which food to start with.
And the bad news is that there's no consensus on which foods to begin with!
Let's look at the options (including baby rice!).
OPTION ONE: BABY RICE

WHAT FOOD ARE WE TALKING ABOUT?
It's regular rice, ground to a fine consistency like flour. You can buy 'ground rice' outside of the baby food aisle too. And in some countries, baby rice cereal is fortified with vitamins and minerals like iron. In Ireland, vitamin B1 is the only added nutrient.
IN DEFENCE OF BABY RICE
Although it gets a bashing online for having 'no nutritional value' this isn't true. It mightn't contain iron or many vitamins, but rice is a carbohydrate which is-you guessed it, a nutrient!
It's easily digestible although it can 'solidify' your baby's poos like many other solid foods.
It's suitable for all babies, including vegetarians/vegans and babies with a milk allergy.
It's easy to buy and prepare
THE CASE AGAINST BABY RICE
It's bland and tastes like milk, so you're not introducing your baby to anything new or exciting.
There's a lot of scaremongering about baby rice online, and it's potentially toxic levels of arsenic. Now, while no one likes the thought of their baby eating any arsenic, it's a natural chemical that's widely distributed in the environment. As a result, arsenic occurs naturally at very low levels in many foods, and it's not possible to avoid it altogether. However, since 2015 the EU has regulated and set maximum limits for arsenic in specific rice products, including rice cakes and rice destined for the production of food for infants and young children. So it's acceptable to give rice to your baby. On the other hand, rice milk is a no-no before age 5.
PREPARATION
It's straightforward; just follow the instructions on the box. You mix the rice with your baby's usual milk.
THE BOTTOM LINE
You don't need to use baby rice. But if you want to start with a few days of rice that's fine. After that, you can include rice (either baby rice or regular rice) as one of a wide variety of food that you offer but don't rely on rice as your only cereal option. And don't be fooled by smart marketing. The four leading brands available in Irish supermarkets range in cost from €2.25 to €3.69 for the same product!
OPTION TWO: FRUIT

WHICH ONES?
Popular choices are apple, pear or banana. But you can use any fruit you like, including citrus fruits and berries.
IN DEFENCE OF FRUIT
Fruit is easy to prepare, and these foods are probably already conveniently in your kitchen. And they appeal to babies who generally lap them up due to their sweet taste. Plus we know that fruit is a good source of vitamins.
THE CASE AGAINST FRUIT
Fruit is sweet, and so is milk. So when your baby starts with fruit, they aren't exploring new sensations like bitter and sour flavours. Plus babies have an inbuilt preference for sweet tastes so it shouldn't be a problem getting your baby to accept fruit flavours later on.
PREPARATION
You can steam, boil or even microwave hard fruit. And then either purée to a smooth consistency, mash well or serve as finger food. Naturally, you can serve soft and ripe fruits, like banana, raw.
THE BOTTOM LINE
It's OK to start with fruit, but it can be a wasted opportunity flavour-wise if you only offer sweet varieties. If you're offering fruit, try to provide sour-tasting fruit like cherries or plums as well.
LEARN MORE: Want to take the confusion out of introducing solids to your breastfed baby?
OPTION THREE: VEGETABLES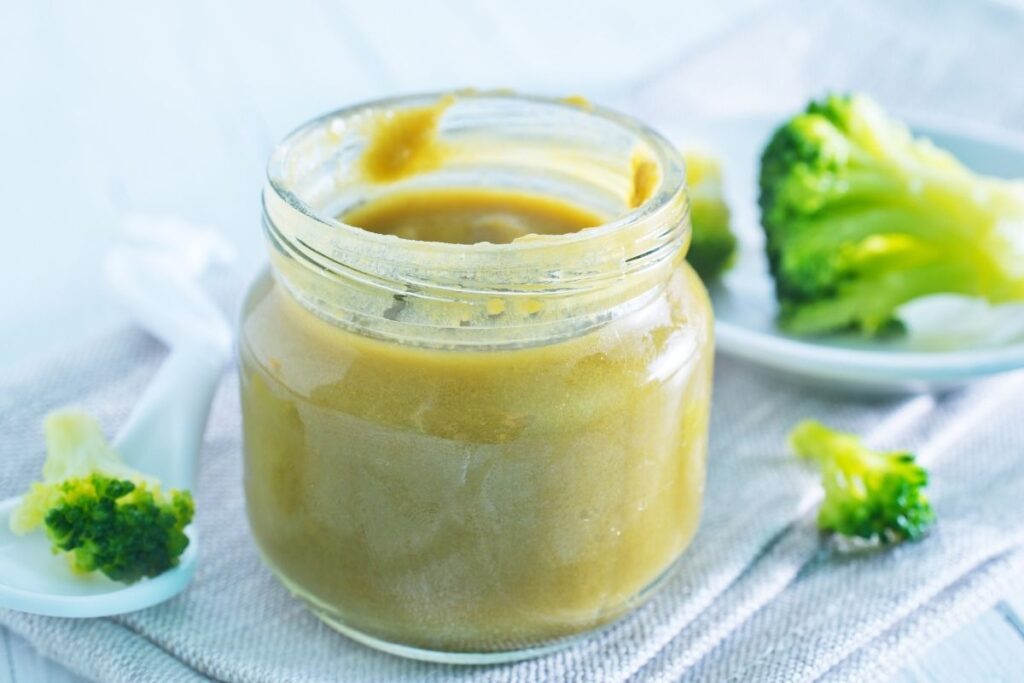 The good news is that we do have some research to suggest that starting with a few weeks of just vegetables is beneficial.
A review of the scientific infant feeding literature highlighted that introducing 'vegetables first, frequently and in variety' during complementary feeding can increase acceptance of vegetables during this period and into later childhood (Chambers 2016).
WHAT FOODS ARE WE TALKING ABOUT?
It's common for weaning books to recommend starting with sweeter tasting vegetables like carrot, butternut squash or sweet potato. But while these foods are readily accepted, they don't offer much by way of new tastes. And the purpose of early feeding isn't about 'how much' food you can get your baby to eat and more about developing their palate for a wide variety of foods. So, my preference is to start with mostly green veggies. The reason for this is that there's some evidence to suggest that exposing your baby to the bitter taste of green veggies early on helps with veggie acceptance later on. And that's what we all want, right?
IN DEFENCE OF VEGETABLES
Chances are you're eating these foods at home anyway. And if you aren't, then you'll have to start if you want your baby to learn to love them.
You can use either fresh or frozen veggies, so they're very convenient to prepare and cook.
Green veggies, in particular, expose your baby to a new flavour which may help to widen their palate.
They're a good source of vitamins.
THE CASE AGAINST VEGETABLES
Some vegetables like broccoli can cause wind, although in the tiny amounts that babies eat it doesn't cause huge issues. And your baby's digestive system needs to be exposed to a wide range of foods to fully mature, so sooner or later this will happen anyway. It can also turn their poo green which while not pleasant to look at or smell isn't a sign that there's anything wrong.
Although some green veggies contain iron and calcium, they generally don't contribute much because your baby will eat them in such small amounts.
You'll read lots of information (or should I say misinformation!) online about what foods you can and can't introduce to babies with reflux and vegetables (and fruit) often end up on lists of things not to give. However, NO evidence backs up these claims.
Some vegetables like spinach are higher in nitrates, and again you'll see scaremongering online about feeding your baby foods rich in nitrates. However, your baby would need to be eating over 200g spinach per day to be at risk.
READ MORE >>> Babies and reflux
PREPARATION
Either steam or boil and then purée to a smooth consistency or offer as finger food, or both!
THE BOTTOM LINE
Using a vegetable-first approach to weaning is straightforward and may train your baby to be a veggie-lover (although there are no guarantees!). It's worth keeping in mind that babies pull funny faces when trying bitter foods. And they might not eat as big a portion of these bitter veggies as they would of those that are sweet. But that's OK. It's much more important for your baby to experience new flavours than to wolf down a big bowl of food.
READ MORE >>> Vegetable-first weaning
OPTION FOUR: IRON-RICH FOODS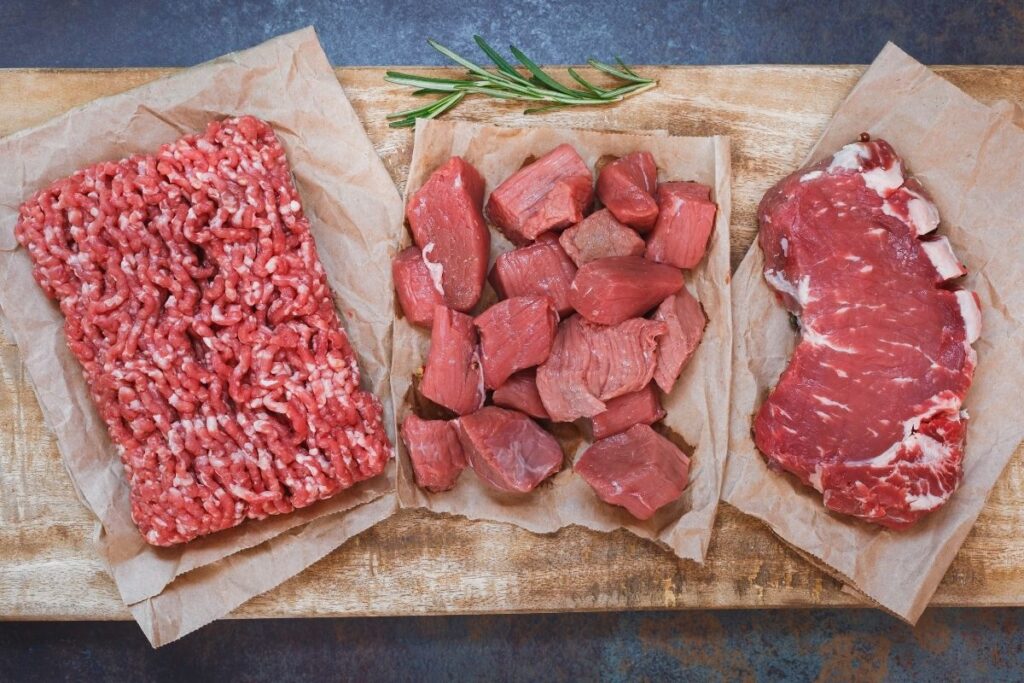 Starting with iron-rich foods is recommended in certain countries like Australia.
WHAT FOODS ARE WE TALKING ABOUT?
Iron-rich foods include meat, especially red meat, poultry, tofu, lentils, beans and iron-fortified cereals.
IN DEFENCE OF IRON-RICH FOODS
We all know iron is a critical nutrient for babies. So even if you don't start with these foods, you'll need to introduce them early in weaning. These are regular family foods you are already cooking, and that you can easily modify for your baby. They introduce your baby to savoury and umami tastes and generally aren't sweet tasting.
THE CASE AGAINST IRON-RICH FOODS
Meat can be a little trickier to prepare and lack the smooth texture of baby rice, fruits or vegetables. However, many babies will be well able for these textures when you start at about six months. And lentils, beans and iron-fortified cereals (like Ready Brek) are very easy to prepare.
PREPARATION
Cook slowly until tender and then purée to a smooth texture or serve as finger foods like meatballs, falafel fingers or fish cakes. Ready Brek (or special baby cereal with iron) can be made up easily by following the instructions on the box.
THE BOTTOM LINE
Choose family foods and modify them rather than making lots of 'special baby weaning recipes'. You'll just need to make some swaps to reduce the salt content.
LEARN MORE >>> Salt and your weaning baby
OPTION FIVE: POTENTIALLY ALLERGENIC FOODS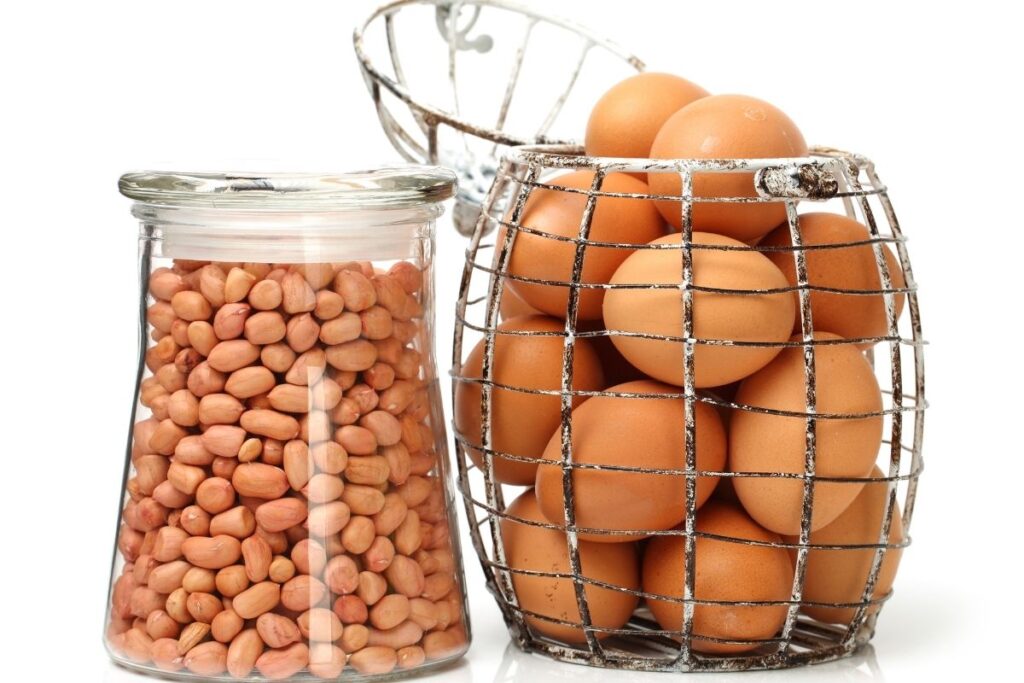 We don't want to delay the introduction of potentially allergenic foods… And if you like you can even start your weaning journey with these. Remember you'll need to introduce these one-by-one. If a reaction occurs, you'll need to identify the culprit.
WHAT FOODS ARE WE TALKING ABOUT?
The top 8 most common allergens in Ireland are milk (including infant formula), peanut, sesame, fish, egg, wheat, tree nuts and soya.
IN DEFENCE OF POTENTIALLY ALLERGENIC FOODS
The EAT study looked at the early introduction of potentially allergenic foods in breastfed babies. And it suggests that early introduction of allergenic food in sufficient quantity may help to prevent food allergies developing in children.
THE CASE AGAINST POTENTIALLY ALLERGENIC FOODS
These foods can be trickier to prepare in a form that's suitable for your baby, and you need to be systemic in how you offer them. You also need to provide them in sufficient quantities and frequently. Plus you may interpret normal symptoms like gagging as your baby having an allergic reaction. It's helpful to start with foods that don't typically cause allergies at least for a few days so you can see what your baby's normal reaction to solids is.
PREPARATION
Ideally, these foods should be offered from a spoon initially rather than as finger foods. Peanuts and other nuts can be provided as smooth nut butter, but you'll need to thin it down first to minimise the choking risk from sticky nut butter.
THE BOTTOM LINE
Babies who are at 'high risk' of food allergy, such as babies with severe or early-onset eczema may benefit from an earlier introduction of these foods. However, you should do this following a medical assessment by an allergy specialist.
LEARN MORE >>>Introducing potentially allergenic foods.
If you'd like more evidence-based advice on weaning check out my online weaning course- Ready, Steady, Wean. You'll go from confused to confident in no time at all!
And why not subscribe to Solid Start and get tips on food, nutrition and feeding straight to your inbox every month?