Need to make a meal for you and your baby in a hurry?! Having a well-stocked freezer and cupboard means you'll never be caught out again. And it doesn't involve lots of batch cooking at the weekends.
Base your baby meal ideas on these store cupboard essentials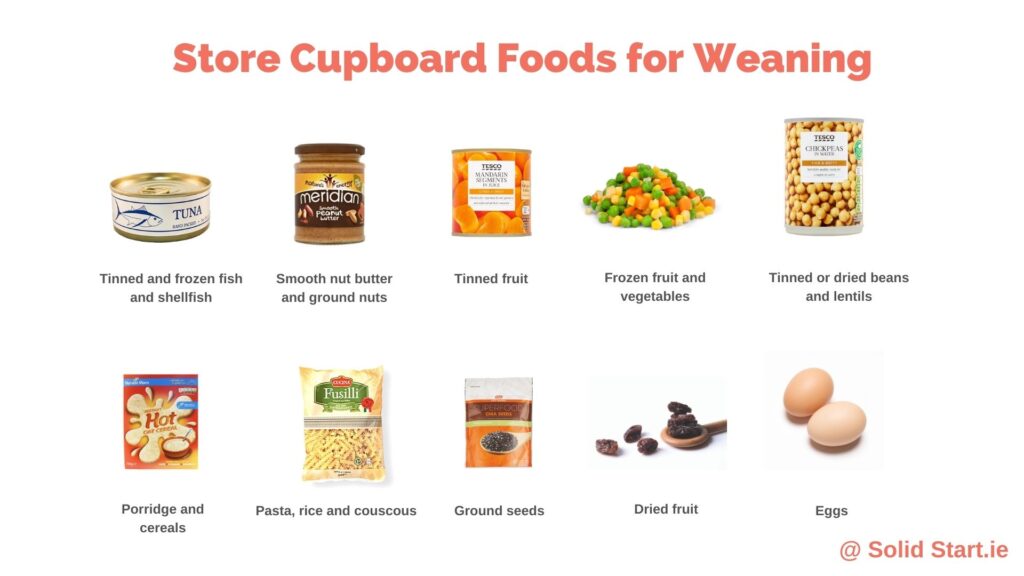 Porridge and breakfast cereals
Thankfully you don't need baby cereals and porridges. Actually, I never recommend them as they tend to be sweeter than regular cereals.
Ready Brek and Weetabix or own-brand versions of these are easy to buy, prepare and are high in iron. Porridge, a staple in many homes, is another excellent option. Most babies are well able for the texture of well-cooked porridge. But if needs be you can blitz a little after cooking.
Pasta, Rice and Couscous
Instant mashed potato varies in salt content so check the label carefully before giving to your baby. But there are plenty of suitable low salt starchy alternatives. Well cooked pasta, rice and couscous add texture to dishes like Bolognaise, curry or casseroles. Blitz or mash the meal as needed first and add chopped pasta, rice or couscous afterwards. Starchy foods don't blend well! Alternatively, offer well-cooked pasta or rice as finger food. Your baby will find fusilli one of the more straightforward pasta shapes to hold. And check out this coconut rice pudding for a yummy tea-time option.
Staples like frozen bread, bagels, toasting muffins and plain rice cakes all make handy vehicles for lots of nutritious toppings. And they tend to have long best before dates.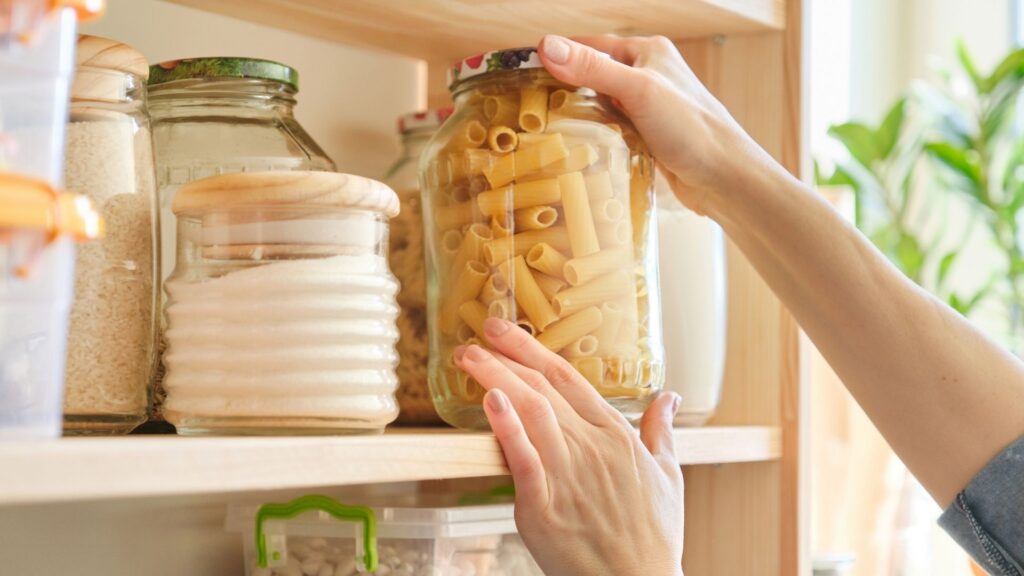 Frozen fruits and vegetables
I'm a massive fan of frozen fruit and vegetables at the best of times. Because they're convenient and just as, if not more, nutritious as fresh varieties. You could try cooking this chia jam and freezing in single portions to add to cereal or yoghurt. Frozen veggies (onions, garlic, peas, butternut squash, carrots and parsnips, cauliflower, peppers, mushrooms, the list goes on) are perfect for first taste vegetable purees and later on in soups, stews, curries, chillies and casseroles. While graspable vegetables like broccoli and cauliflower florets make great first finger foods for vegetable first weaning.
LEARN MORE: Have you heard about vegetable-first weaning?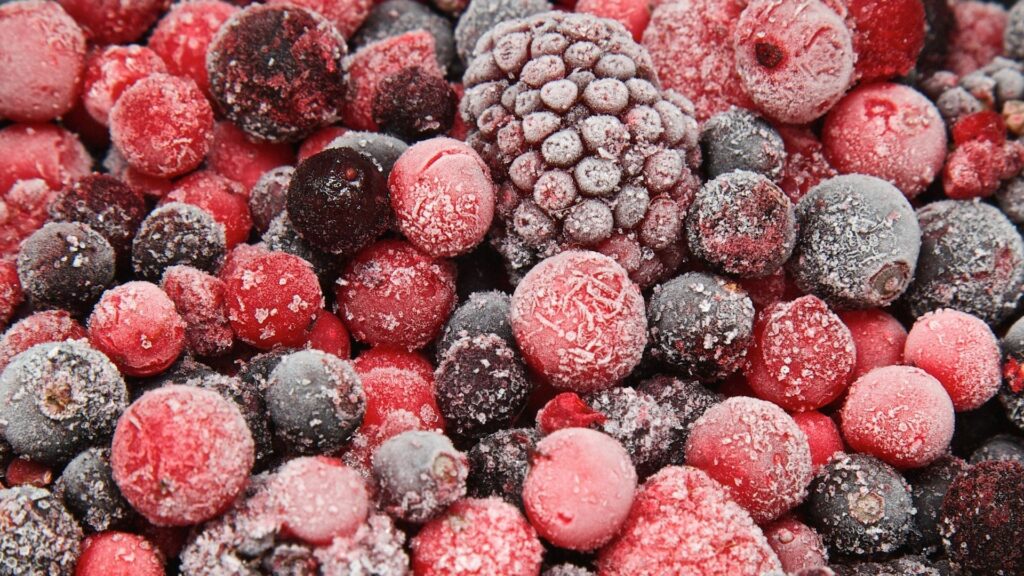 Do boil frozen berries for one minute before serving to your baby (FSAI)
READ MORE: First finger foods to get you started
Tinned fruits
Try to buy tinned fruit in natural juice rather than in syrup. And mash or offer as finger foods. They can be slippery so you might want to dry them first and roll in Ready Brek or ground almonds for grip!
Dried fruits
Add dried fruits such as raisins, apricots, prunes and figs to porridge, rice pudding and curries. Straight from the pack, they're a choking hazard. Therefore it's best to soak them in boiling water until soft and then chop into smaller pieces. It's good to know that dried fruit generally contains all of the vitamins and minerals the original fresh fruit provides except for vitamin C.

Tinned beans
Kidney beans, chickpeas, cannellini beans, butterbeans and black beans are perfect store cupboard protein-providers. Plus they contain iron. Use as a base for stews, soups, casseroles and curries instead of meat. Use mash or blitz into spreads like hummus. Try to choose varieties tinned in water rather than brine (salty water) when possible. If you can't find them tinned in water, rinse and drain well to wash off the extra salt.
Tinned and dried lentils
Use in place of meat in Shepherd's pie, Bolognaise and burgers. Make sure to cook dried beans and lentils thoroughly.

Tinned fish and frozen fish
Choose tinned fish in spring water and unbreaded frozen fish fillets, when you can. Then use in fish pies, tuna pasta sauce, fish spreads or pate and fish cakes. Or simply offer flaked as finger food or mashed from a spoon.
Milled seeds
Milled chia seeds or flaxseeds are good sources of fat, protein and minerals. But babies don't need massive amounts. Aim to keep it under 1/2 teaspoon per day. Add to cereals and yoghurt or sprinkle on 'wet' finger foods like banana and frozen avocado.
Nut butter
Swirl smooth nut butter such as peanut, almond or cashew through porridge, ready brek, Weetabix or yoghurt. Or for older babies who are skilled with finger foods try spreading it thinly on toast, bagel or a plain rice cake.
LEARN MORE: A step by step guide to introducing potential allergens

Long-life milk
If you're not breastfeeding, your baby needs a first infant formula until their first birthday. Whole cows milk in foods and cooking is fine at any age. In some countries, UHT milk is readily available and is fine to use. But, it's not readily available in Ireland. However, long-life varieties of plant-based milk are easy to find in most supermarkets. With soya milk the most nutritionally similar to cows milk. Other plant-based milk such as fortified oat milk, coconut milk and almond milk can be used in cooking if needed. However, be considerate and don't buy in bulk. Milk allergic children and adults are dependant on these. Tinned coconut milk, although not nutritionally comparable to milk, is delicious in rice pudding. Rice milk, on the other hand, isn't suitable for children under five due to the arsenic content.
5 Baby meal ideas using storecupboard basics
I've linked to some recipes on my blog. Also, remember you can adapt most recipes to make them suitable for your baby.
| | | |
| --- | --- | --- |
| Breakfast | Dinner | Tea |
| Weetabix with tinned mandarins and cinnamon | Lentil Bolognaise with spaghetti | Tinned tuna and frozen sweet potato mash and mini corn on the cob |
| Ready Brek with dried apricots and almond butter | Tuna fish cakes with frozen broccoli | Peanut butter on toast with tinned pear |
| Porridge with frozen berries and chia seeds | Bean stew with rice and frozen green beans | Coconut rice pudding with tinned peaches |
| French Toast made with frozen eggs and chia jam | Pasta with frozen avocado sauce and cauliflower floret | Lentil and tomato soup with toast soldiers |
| Ready Brek with nut butter and finely chopped prunes | Lentil and sweet potato coconut curry with rice | Scrambled eggs with tinned tomatoes and broccoli floret |
Common Questions about Store-cupboard Foods
Are frozen vegetables as good as fresh?
Absolutely! Sometimes even more nutritious as they are frozen directly after harvest and at peak ripeness.
Can you refreeze frozen vegetables and fish?
Yes, once cooked, you can refreeze them.
Is tinned fruit any good?
Fruits used for canning are picked at peak freshness, ensuring the best flavour and nutrient quality. The amount of minerals, fat-soluble vitamins, and carbohydrate remain relatively unchanged by the process of canning. But, because the canning process requires high heat, canned goods may have less water-soluble vitamins such as vitamin C and B vitamins.
Do baked beans contain salt?
Yes, they do contain some added salt. The amount varies from brand to brand. But you can serve to your baby in small amounts, taking care not to give any other foods with added salt that day.
READ MORE: Salt and your baby
I've heard that Ready Brek and Weetabix are high in salt, are they?
Ready Brek and Weetabix have a low salt content. They are a quick and nutritious breakfast option for babies.
For more fuss-free advice on weaning your baby, check out my online course Ready, Steady, Wean.
And why not
subscribe
to Solid Start and get tips on food, nutrition and feeding straight to your inbox every month?