ALL my babies' (there were four!) introduction to porridge was a Pear and Apricot Porridge that I made in bulk to freeze. To this day, porridge is their cereal of choice. That's good news for me because it's cheap and nutritious.
Porridge is one of the best foods to start your baby on in the early days of weaning. It's rich in protein, acts as a good source of iron, and is a great source of slow-release energy so is perfect for developing bodies and brains. The great thing about porridge oats is that the recipe can be changed easily allowing you to get a variety of flavours and into your baby's diet.
How soon can babies have porridge?
Porridge oats can be introduced to your baby as soon as you start them on solid foods around 6 months old. As it's soft and creamy with a mild taste, it makes for one of the best choices for a weaning baby.
LEARN MORE >>>> I'm confused! When is my baby ready for solids?
What can I mix with porridge?
It's important to offer your baby variety when it comes to rolled oats as sticking to the same flavours day-in-day-out can become boring. Exploring flavours and textures helps with your little one's development as they process new tastes, textures and flavours.
There are plenty of great toppings you can add to a baby porridge that will not only add to the flavour but also boost its nutritional value too, below are some of my recommendations.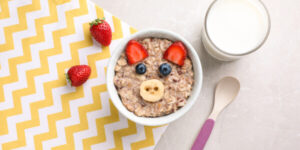 Chopped berries
Chopped fresh berries or frozen berries are great to mix with baby porridge when cooking as the fruit juices will ooze into the oats to make a lovely fruity porridge!
Make sure if you're using frozen berries that they are thoroughly boiled for one minute.
Coconut Milk and Sliced Banana
As a change from cooking in regular milk consider cooking your rolled oats in tinned coconut milk to add a new flavour. Slice some bananas to add a lovely sweetness and texture to the oats.
Greek Yoghurt and Cinnamon
Give your baby's porridge a little flavour and a beautiful creamy texture by adding Greek yoghurt and a sprinkle of cinnamon. Great for bones and teeth, Greek yoghurt is packed with calcium and also plenty of energy for your little one to grow.
Which milk is best with baby porridge?
You can use breast milk, your baby's usual formula, whole cows milk or fortified soya milk. Plant-based alternatives such as almond milk or oat milk are low in protein, calories and iodine. So, although they're fine to use from time to time, they're not the BEST choices for babies and young children. 
READ MORE: The best guide to introducing babies to cows milk ever
You should introduce one allergen at a time eg. cows milk or soy or milk and you should continue to feed them breast milk or formula until they are at least 1 year old.
LEARN MORE >>>>> Step-by-step guide to introducing potential food allergens during weaning. 
How to prepare porridge oats for baby
There are many companies out there selling packaged baby porridge oats, but did you know that regular ground/smooth oats are perfect for your baby. You can use branded Ready Brek or supermarket-own alternatives from Tesco, Lidl or Aldi. These are ground oats are usually super smooth, easy to prepare, fortified with iron and contain no added salt or sugar.
You'll commonly see online that parents make their own milled baby oats for a fraction of the price by grinding up regular oats in a food processor. This is fine too, but remember while your baby will get the iron naturally present in oats they won't get the added iron from the packaged oat cereal.
Rolled oats are too big and chewy for a weaning baby but by blitzing them in a food processor you can create fine oats which makes them much easier for little ones to eat. You can batch make these fine oats in any quantities you like as they will keep in an airtight container or glass jar for several months.
Once you have blitzed your porridge oats you can continue to make a healthy breakfast for your little one.
Simple baby oatmeal recipe
Ingredients
20g porridge oats
120ml breast milk, formula, cows milk or fortified alternative
Method
Put the porridge oats and milk into a small saucepan on the hob on a medium heat
Heat up, stirring occasionally until the porridge thickens to a double cream-like consistency
Reduce heat to low and let simmer for 2 minutes until the oats are cooked
If the porridge is too thick, add a little more milk to make it runnier
Allow to cool down and place in a bowl for your little one to enjoy
Sharing breakfast with your baby
What better way for your baby to learn how to eat than to watch you do it! You can help your baby become more accepting of new foods (and save yourself some time) by sharing a bowl of porridge with your baby. All of the healthy breakfast porridge ideas below can be doubled, tripled or quadrupled for you and your baby to share.
LEARN MORE>>>>> Simple baby breakfast ideas that you can share
Healthy breakfast porridge recipes for babies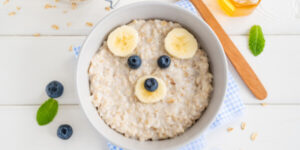 There are so many possibilities to baby porridge – you can jazz up with fruit, flavour with gentle spices like cinnamon, nutmeg or ginger and even add to the texture with ground nuts or small seeds like chia seeds. Below I've listed five of my favourite baby-friendly oatmeal recipes that you can try at home.
Porridge with fruit
If you're looking for a deliciously creamy and warm breakfast packed full of nutrients then this porridge with fruit recipe is for you!
Ingredients
15g porridge oats
150ml baby's usual milk
50g frozen berries (I recommend blueberries or raspberries)
Method
Place the milk, baby porridge oats and berries into a saucepan and bring to the boil, stirring frequently
Reduce heat to low once boiling and let simmer for 2-4 minutes until the oats have thickened
Remove saucepan from the heat and allow to cool slightly
If porridge is too thick, add more milk
Serve warm
Mashed Banana and Cinnamon porridge
Whether you're a baby, child or adult this mashed banana and cinnamon porridge is a treat for the tastebuds. It has a beautiful creamy texture, is light and naturally sweet and is filled with plenty of healthy ingredients for growth and development.
Ingredients
20g baby porridge oats (like Ready Brek)
120ml baby's usual milk, whole cows milk or fortified alternative
1/2 a small ripe banana
1/2 teaspoon ground cinnamon
Method
To make this baby porridge simply add all ingredients to a small microwavable bowl
Cook for 1 minute and then stir well to get rid of any hot spots
Allow to cool slightly
Add to baby's bowl and serve warm
Grated apple porridge with milled chia seeds
This grated apple porridge is a simple, tasty way to start the day for babies (and their parents!).
Ingredients
20g porridge oats
120ml baby's usual milk, whole cows milk or fortified alternative
1/2 teaspoon milled chia seeds
1/2 an apple, grated (you can leave the skin on as long as you wash the apple well first). This also works really well with pear.
Method
In a small pan, combine the oats with milk and the grated apple and bring to the boil
Spend a few minutes stirring until thick and let simmer for an additional 2 minutes
Once at your desired consistency take the pan off the hob and stir in the chia seeds
Let cool and serve warm in a small bowl
Almond & Coconut porridge
Upgrade your little one's regular bowl of porridge and let them explore all kinds of different flavours with this ultra rich and creamy bowl of almond and coconut porridge.
Ingredients
20g baby porridge oats
120ml baby's usual milk, whole cows milk or fortified alternative
1/2 teaspoon smooth almond butter
1 teaspoon toasted coconut
Method
In a small microwavable bowl, combine the oats with milk
Microwave for 1 minute and then stir well to disperse any hot spots
Add in the almond butter and stir well
Allow it to cool
Top the porridge with toasted coconut and serve warm
Banana and Raspberry Porridge fingers
Porridge fingers are great for weaning babies and toddlers alike and offers a different take to normal porridge. Particularly good for baby-led weaning, this recipe will ensure your little one is satisfied until lunchtime.
Ingredients
75g porridge oats
100ml baby's usual milk, whole cows milk or fortified alternative
1 small ripe banana, mashed
10 raspberries, mashed
200g whole unflavoured Greek Yoghurt
Method
Add the oats and milk to a small bowl, stir and then leave to soak for 5-7 minutes
Stir through the banana and raspberries until ingredients are combined
Line a microwavable dish with baking paper
Pour in the mixture and spread out so it's even
Microwave for 3-5 minutes until firm
Leave to cool and then cut into fingers
Serve with yoghurt on the side to dip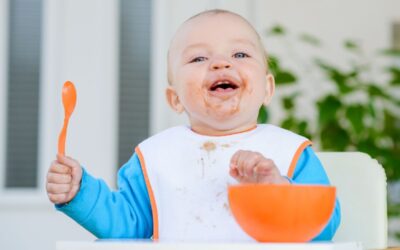 Ready to start your baby on solids? But bamboozled by weaning schedules, do and don'ts and weaning recipes. Fear not. Here are the basics you need to know to start your baby's weaning journey.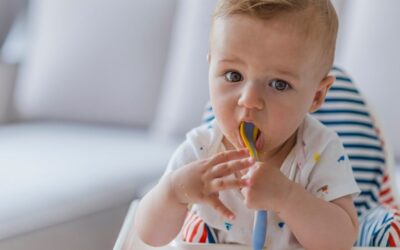 INSIDE: In this blog, you'll find a week of baby breakfast ideas you can easily share with your baby.  My first son didn't take to solids readily. It's like he didn't know his Mam was a dietitian! But breakfast was the ONE meal that he reliably ate. And watching him...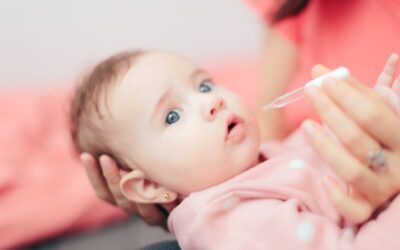 So most of us have the vitamin D in the nappy bag, stuffed down the side of the changing table or safety in the medicine cabinet, but why is it so important? And how can we remember to give it? Let's look at how and why to give your baby vitamin D.