Pasta is such a quick meal it's no wonder parents are always looking for pasta recipes for babies. This creamy avocado sauce is perfect!
This baby pasta recipe ticks a lot of boxes
It's quick and easy

It's dairy and egg-free (it can be gluten-free if you mix with gluten-free pasta)

It's a handy way of offering your baby nuts

You can make it from store cupboard (freezer) ingredients. Perfect when you've run out of fresh food

The whole family can enjoy it too

It's nutritious and colourful
It's suitable for the whole family
When you've taken out a portion for your baby, add some salt for the adults or older children
It's not just good with pasta!
You can also eat this:
As a spread on toast, rice cakes or bagels

As a puree from a spoon

As a dip for breadsticks, cucumber sticks or fingers of toast
What you'll need
An avocado (frozen is fine), three tablespoons ground almonds, juice of half a lemon, a clove of garlic and a handful of basil.
What to do
Blitz everything together!
How to store this sauce?
This doesn't freeze. You can keep in the fridge but it will brown so it's best to eat straight away.
Creamy Avocado Sauce-the perfect pasta recipe for babies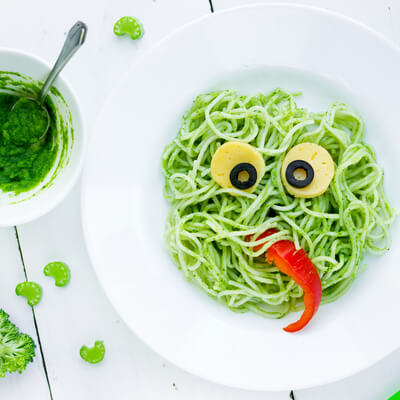 You'll knock up this pasta sauce in a matter of minutes. It takes longer to boil the pasta!
Ingredients
One avocado (frozen is fine)
3 tablespoons of ground almonds
Juice of half a lemon
1/2 teaspoon of frozen garlic or 1/2 clove of garlic
Handful of basil (or some frozen basil)
Instructions
Blitz everything together!
And why not
subscribe
to Solid Start and get tips on food, nutrition and feeding straight to your inbox every month?