Halloween, love it or hate it? Either way, it seems to get bigger and bolder every year. I want to let you in on why I love Halloween and think Halloween foods, including the abundance of Halloween sweets, can be good!
People think dietitian = Grinch of Halloween!
But it couldn't be further from the truth. One of the reasons I love Halloween so much is because growing up in 80s rural Ireland; we missed out on Trick or Treating. So, it's extra special with my gang now here. Although, to be fair to my Dad, he was a dab hand with the snap apple!
Can Halloween sweets be a learning opportunity?
A few years ago, one of my neighbours said she found it unusual that I didn't limit how many sweets my kids ate at Halloween. But, think about it. If I used Halloween as a time to talk about dental decay and insisted on binning things I didn't like the look of, what message do I send? As well as sucking the joy out of Halloween, I'm also demonising sugar and showing the kids that I don't trust them around unlimited sweets.
Instead, I prefer to use Halloween as an opportunity to help my kids become more intuitive eaters. Letting them eat their fill on Halloween night shows them that I don't fear food, nor should they. Even when we relish a particular type of food, we all have an off-switch. And that the natural consequence of overeating (even of foods you like) is not feeling great.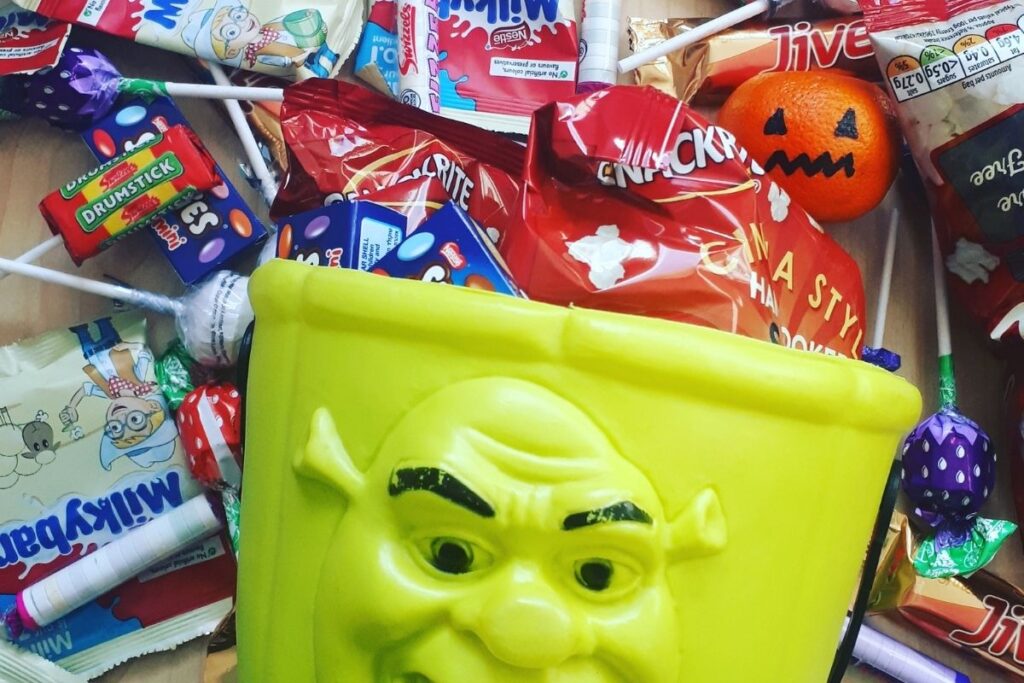 But most of all, it shows I trust them around eating food of all types.
The kids also have great fun sorting through their stash and giving away or swapping stuff they don't like. This is another valuable learning point. Value the foods you enjoy rather than eating foods just because they're there!
Do Halloween Sweets stress you out?
We hear so much about childhood obesity and dental health that's it only natural to worry about your child eating too many sweets. Other parents tell me that they're worried that their child will get sick or that they won't want to eat any other foods that day.
Well, why not think of Halloween Sweets this way instead?
Your kids can brush their teeth
Your kids don't eat these foods all the time
Maybe they will puke! The worse thing is it'll be on the carpet!
Sugar isn't toxic
E number doesn't equal harmful
You can serve them alongside other foods
Take a look at our family's Halloween Game Plan.
Now you know I don't have an issue with my kids eating Halloween sweets. But that's not to say I don't use covert restriction to minimise their overall sugar consumption and help protect those teeth! My game plan isn't the only way to do Halloween, but it works best for our family, fits in with my food philosophy and what I know are helpful approaches to raising happy, healthy eaters.

# 1: Buy the sweets at the last minute
Believe me, the shops never run out. Because experience has taught me that if the cupboard is brimming with fun size bars, we'll have eaten by all by Halloween.
# 2: Schedule an early dinner
I've learned the hard way that the doorbell starts ringing as soon as the sun goes down and dinner gets abandoned. So, if I'm not working, we aim for an early dinner or something quick like beans on toast when we get home. That way, at least they've had something to line the stomach! This Goulash is the perfect get-ahead Halloween dinner, Ghoulash! Get it?!

# 3: Set a limit on your route
For the younger kids, I decide on how many houses to visit and the size of their buckets! When they're full, we go home. When they were smaller, I also removed any choking hazards (lollypops and round jellies for the toddler) 
My older boys go with friends, so they aim to hit as many houses as possible! 
# 4: Sweets on Halloween night and the day after
Simple! I let them eat as much as they like from their stash. I've noticed over the years that they're more stingy with themselves than I would be with them. So, trust your kids. Maybe they don't need you micromanaging them.
#5: Manage leftovers
By now, there's a good chance that the younger kids don't have anything left! So, we take whatever's left and share it at some meals and snacks over the rest of the holidays. In our house, it's mostly all gone by the end of the mid-term break. But I know for others, it can last a lot longer than this.
Being a responsible neighbour at Halloween
I'm not here to tell you what to give at your door. But to remind you that while it seems un-Irish to appear stingy, our contribution is only a drop in the ocean to the total quantity of treats children will score on the night. So, more isn't necessarily better.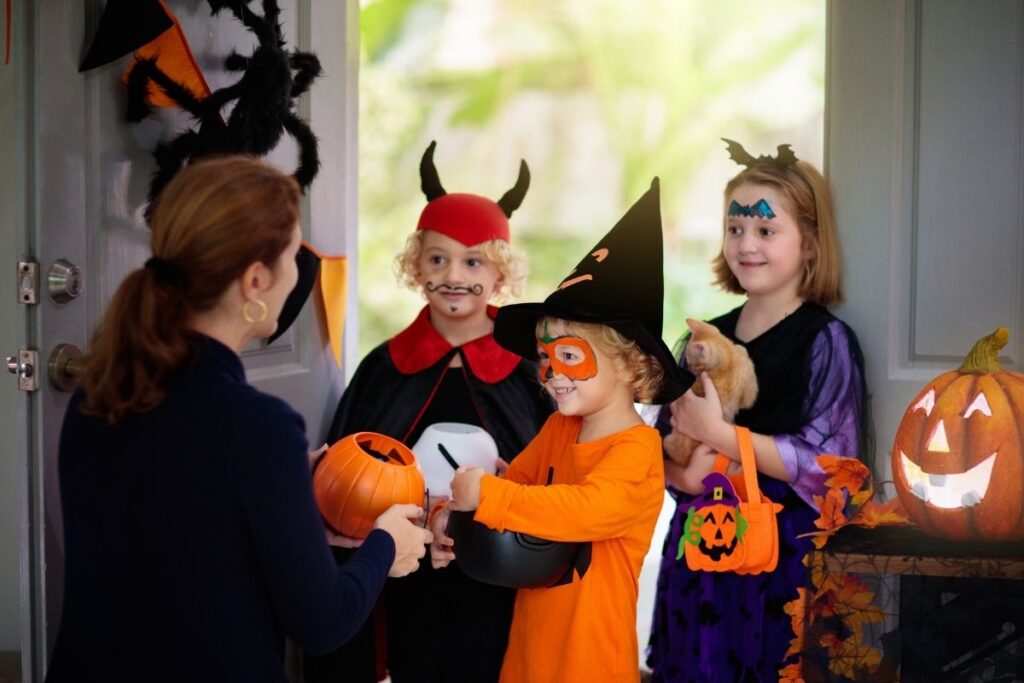 In case you're interested, here's what I traditionally give:
A fun-size chocolate bar (chocolate is better than jellies as it doesn't stick to the teeth)
A small bag of popcorn (for older kids). This is great because it's large, so it makes me look generous but also high in fibre.
A satsuma Jack o lantern for little kids. I'd probably give them out to all, but my boys have made me swear that I'll only offer them to people under 5!
I have some non-food treats on hand too.
Some might say stingy, and I like to think considerate.
Are you brave enough to offer fruit as well as Halloween Sweets? 
Every year my sister warns me that I'll get 'egged' for giving out fruit. But 15 years on, and I've only been 'egged' once and to be honest, I can't link it directly to the fruit. 
Here's why I'm willing to run the risk of an egg being thrown at my windows:
With so much focus on 'wellness', it's easy to forget that food is about much more than nutrition. Family traditions, sharing food with friends, and seasonal celebrations are just as important as protein, vitamins and healthy fats!
So while I don't have an issue with Halloween sweets, I also like to celebrate with other foods, including those that bring back memories of Halloween's past. So, bring on the Haribo jellies and chocolate, but why not include other traditional foods like satsumas, apples, barmbrack and nuts (best not to hand these out at the door, though)? 
In the spirit of all foods being equal, why not celebrate with fruit too? Just like we don't want to put sweets on a pedestal, we also don't want to downgrade other foods to bland everyday foods!

Managing food allergies at Halloween
As a mum to a food-allergic child, I know that Halloween can be more tricky when managing food allergies. 
Although I don't think my son ever felt excluded, and fortunately, we never experienced any slip-ups at Halloween despite his allergies to milk, egg and peanuts. He's still allergic to kiwi, but thankfully it's not something that traditionally ends up in his stash.
As a giver, here are a few things to bear in mind:
Keep some non-food treats on hand and put up a poster on your door explaining you have 'safe treats'. Places like Dealz or Euro Giant are great for picking up Halloween stickers, pencils, tattoos, glow sticks and other Halloween novelty items. And always ask Trick or Treaters if there's anything they're allergic to before putting it in their bag. 
As the parent of a food allergic child, here's what I used to do:
Call to the houses where people are aware of my son's allergy. Every year my lovely neighbour went out of her way to have 'safe treats' for my son. Alternatively, you can give safe treats to neighbours in advance. Tell your child not to eat anything until you've checked it out at home. Once you get home, swap out foods they can't have with safe substitutes. But don't try to trick them out of sweets; this isn't fair!
Also, check out the Teal Pumpkin Project.

Halloween and messy food play are a match made in heaven.
Messy food play is a great way to expose kids to new foods without pressure. 
Here are a few ideas:
READ MORE >>> Messy Food Play Ideas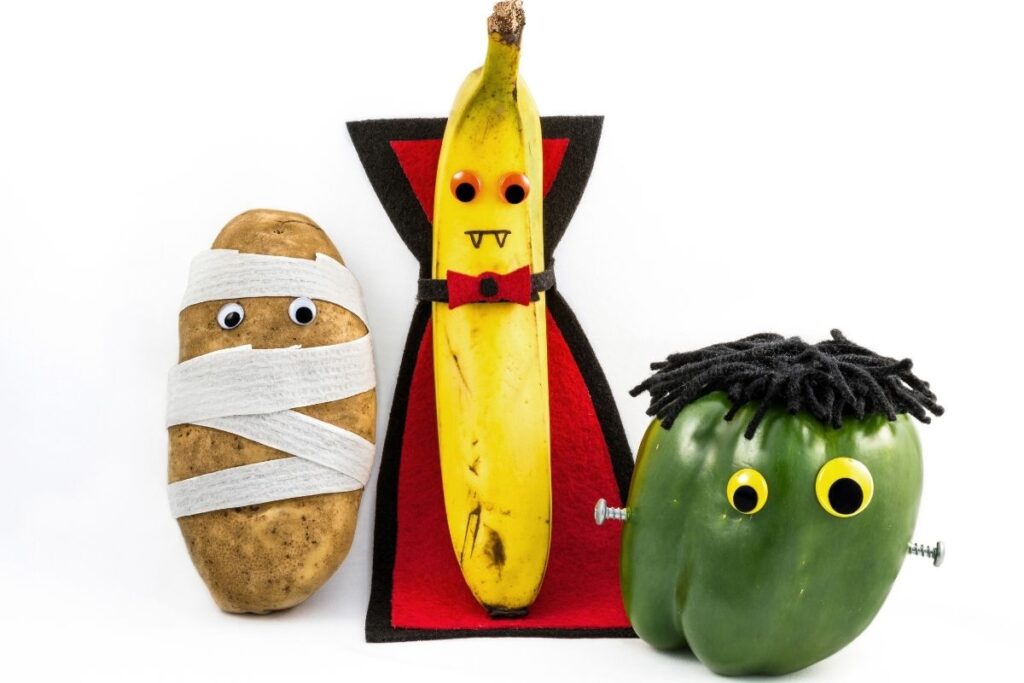 Something new to try: Have you heard of the Switch Witch?
Have you heard of the 'switch witch'? I hadn't until a few years ago. We tried it a few years ago, and it worked out OK, but overall, it felt like too much hard work (and maybe a little controlling) for me.
How it works is that you get the kids to divide their 'treats' into two piles. One pile for the treats they love and the other for ones they aren't as keen on. They leave this second pile out for the 'Switch Witch' who comes overnight and swaps the food for some non-food treats. The year we tried it, I changed the unwanted sweets for some sugar-free chewing gum (over five only) and money. 
The idea behind the 'switch witch' (I think) is that it helps kids think about what they like and what they're not bothered about eating. Think about all the times you've eaten something you aren't enjoying just because it's offered to you. Wouldn't it be great if you had the awareness to pass? 
If this idea appeals to you, then give it a try.
So, this is what works for my family and me; I'm not saying this is the correct way to do Halloween. You will know what works best for your family. But, whatever way you celebrate, I hope you all have a great Halloween!
Check out my online courses if you'd like to learn more about my strategies to raise happy, healthy eaters. 
And why not subscribe to Solid Start and get tips on food, nutrition and feeding straight to your inbox every month?