It doesn't get much more festive than mince pies! Mince pie porridge gives ALL of the same feels (and smells) but it suitable for even the smallest of elves!
Do you like mince pies?
I'm a fan. However, I appreciate that they're not to everyone's tastes. Every October, I get the kids to help me make mincemeat, and the house fills with amazing Christmassy smells straight away. Maybe it's because they're involved, but three out of the four of them now love mince pies as much as I do!
Mince Pie Porridge without mincemeat!
Mince pie porridge usually involves stirring mincemeat through porridge. And that's fine for older kids but not for babies
The great thing about this recipe is it has the feel of mince pies but without the added sugar (and the alcohol)
Porridge or Ready Brek?
I've used porridge here because I think the oats' texture works well with the dried fruits. And because it's more likely that you'll want to share a bowl of porridge with your baby than a bowl of Ready Brek. But if you're a Ready Brek eater, no judgement!
Ready Brek is generally great for babies breakfast as it's got the goodness of oats but in a nice smooth texture and with the benefit of being fortified with iron and calcium. So, porridge oats or Ready brek for this one, the choice is yours?
LEARN MORE: Simple baby breakfast ideas that you can share
Is it OK for my baby to eat almond butter?
You can introduce your baby to tree nuts, including almonds at any age. Just make sure to offer only a little at first and not offer two potentially allergenic foods for the first time on the same day.
READ MORE: Step-by-step guide to introducing potential allergens
Why can't I add honey or maple syrup to my baby's porridge?
Honey and maple syrup are added sugar, just like regular table sugar. And it's better to avoid added sugar until your baby is at least one year of age. Honey should also be avoided in babies under 12 months because it may cause a form of infant botulism.
Aren't dried fruits a choking hazard?
On their own dried fruits like raisins, sultanas and cranberries can be a choking hazard. They're also sticky and get glued to baby teeth. However, when they're cooked into the porridge, they will soften (you can also mash for a younger baby) and become less sticky and less of a choking risk.
What milk can I use if my baby is allergic to cows milk?
If your baby can tolerate soya milk, use fortified soya milk. If your baby is allergic to soya and cows, milk fortified pea or oat milk is the next best choice.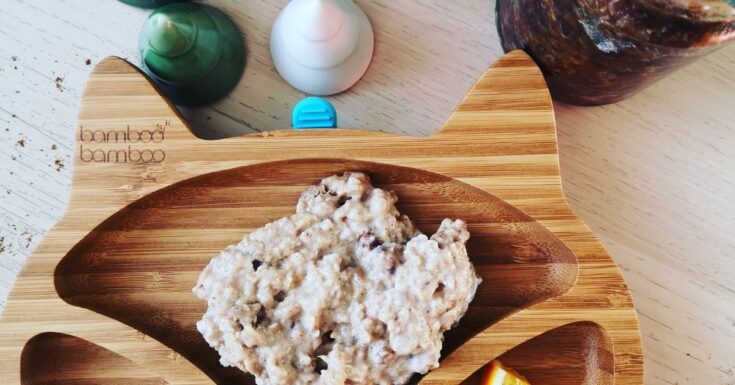 This bowl of festiveness is the perfect way to start Christmas Day or really any other day in December! Best of all it can be enjoyed by everyone from your baby to your granny and is easily prepped the night before. What more could you want from a breakfast?!
Ingredients
400 mls milk (cows milk or dairy-free alternative if needed)
1 small grated apple (no need to peel, the red skin is Christmassy!)
40 g porridge oats
1 tsp cinnamon
1/2 tsp mixed spice
1 tbsp smooth almond butter
Handful sultanas or raisins
1 orange, zested
Instructions
Simmer everything together in a non-stick pan for 10 minutes, stirring all the time.
You can blend if you need to but most babies 6 months + should be fine with the unblitzed version provided everything is nice and soft
Freeze at this point if you like or eat it straight away
Adults and older kids might like to add some sweetness with honey or maple syrup but leave it as it is for younger kids and babies. They're sweet enough!
Serve with a vitamin C rich fruit like orange to help your baby absorb the iron from the oats
And why not
subscribe
to Solid Start and get tips on food, nutrition and feeding straight to your inbox every month?