Are you struggling with what to serve your baby at lunchtime? If so, you're not alone! You won't be for long. This blog has tonnes of quick and easy baby lunch ideas for you.
When do I start offering my baby three meals a day?
While most health authorities agree that about six months is the optimal time to start solids., they're not consistent with how quickly to progress with food.
The HSE recommends three meals a day by six months, which is tricky when you start at six months!
The NHS is a bit more realistic, suggesting that between 7-9 months, your baby should gradually move towards eating three meals a day.
Don't get too bogged down on dates! But it makes sense to aim for a schedule of three meals a day by around the 7-month mark.
BUT WHAT DO I GIVE FOR THE THIRD MEAL?
Like most parents, you probably started with a hot meal in the middle of the day, dinner, followed by breakfast. And now, you're ready to begin offering a third meal.
But what should that third meal be? What should you even call it? For this blog, I'm going to call it lunch (but feel free to call it tea or supper).
So, let's take a look at some quick and easy baby lunch ideas.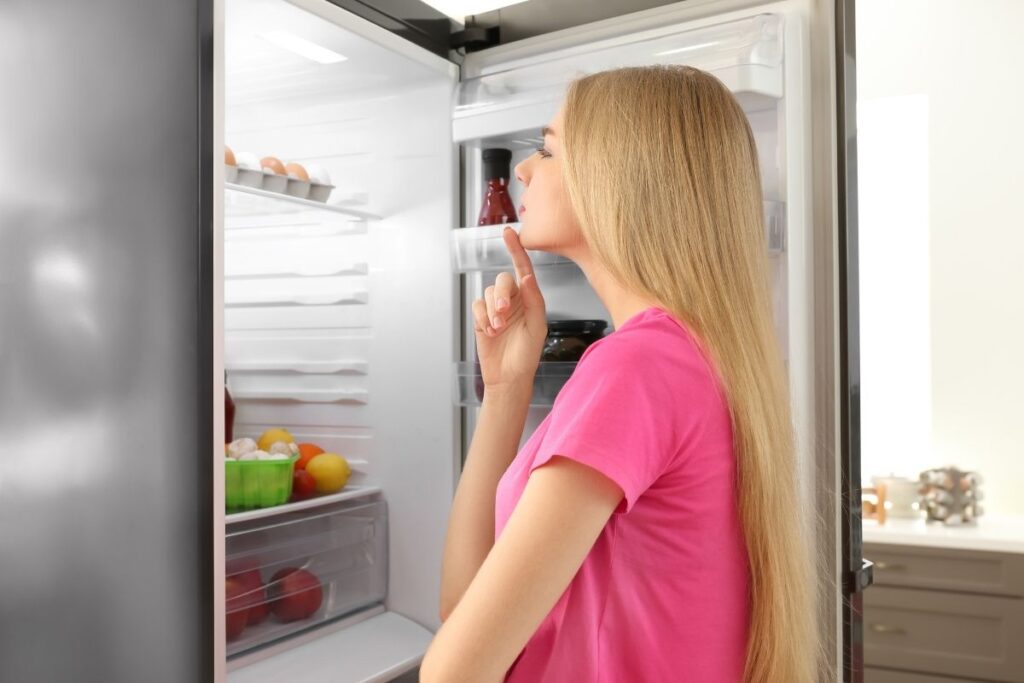 A SIMPLE RULE FOR BABY LUNCH IDEAS
You can make a nutritious, balanced and exciting meal out of virtually anything by following this simple rule:
Pick an iron-rich food.
Choose a fruit or vegetable.
Add another food for energy.

Choose an IRON-RICH FOOD
Foods rich in iron include red meat, chicken, turkey, fish, iron-fortified cereals (like Ready Brek), lentils, beans, tofu, nuts and seeds.
READ MORE >>> 9 Every Day Iron-Rich Foods
Choose a FRUIT OR VEGETABLE
Remember, they don't have to be fresh. You can also choose convenient options like frozen vegetables and tinned fruit in juice. And vegetables don't always have to be cooked, once your baby is confident with soft first finger foods you can also offer harder finger foods like sticks of cucumber.
Choose an ENERGY-RICH FOOD
While it can be tempting to fill your baby up with lots of fruits and vegetables, remember that babies have small tummies. And fruits and vegetables, although very nutritious, are low in calories. So, balance the meal by adding carbohydrate food like bread (toast is easier), potato, pasta, rice or couscous are essential. Or add healthy fats like olive oil, nut butter, ground seeds, spreads, avocado and dairy like whole yoghurt and cheese.
SHOULD LUNCH BE FINGER FOOD OR FROM A SPOON?
I'm a big believer in getting the best of both worlds and offering your baby a mix of finger foods and food from a spoon. If you're offering a spoon feed, try to mash rather than puree as this is a more appropriate texture for this stage.
If you haven't started first finger foods already read more about them here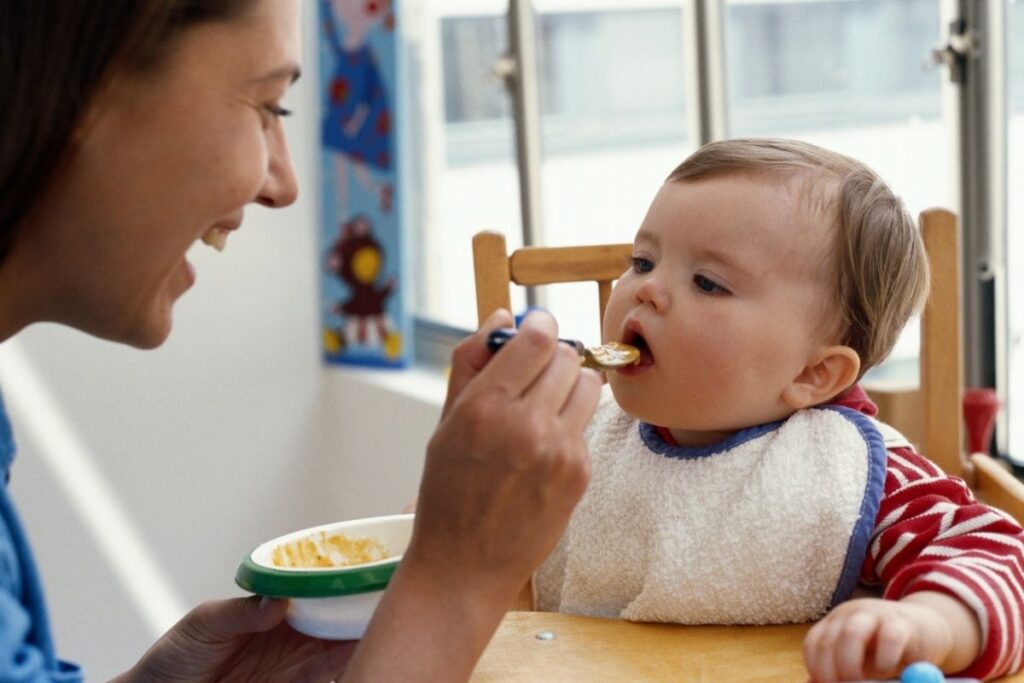 SEVEN EASY AND SIMPLE BABY LUNCH IDEAS
Day

Iron Rich Food

Energy Food

Fruit/Veggie

Monday

Hard-boiled egg sliced or mashed

Avocado slices or mashed

Sliced ripe pear

Tuesday

Greek Yoghurt

Sliced cooked tomato

Wednesday

Peanut butter spread thinly on a finger of banana or mashed together.
Thursday

Baked Beans (choose low salt), mashed or as finger food

Solider of toast with unsalted butter

Steamed Carrot sticks or mash

Friday

Hummus (choose a shop bought one with the lowest salt content or make your own) as a dip or from a spoon

Steamed carrot, asparagus and courgette sticks

Saturday

French Toast Fingers

Kiwi Slices or mash

Sunday

Fish cakes or tuna mashed with Greek Yoghurt

Steamed Broccoli Florets

WHERE DO COMMERCIAL BABY SNACKS FIT IN?
I'm sure it won't surprise you to hear that I'm not a massive fan of prepared baby snacks like puffs, wafers and pouches. My biggest issue with them is that it's easy for babies to fill up on these at the expense of regular family foods. However, I live in the real world too, and I understand that occasionally you might want to use these as part of your lunch meal.
Here's where I think you could work them in, alongside regular food.
Try serving a baby vegetable pouch alongside a fish cake or just some mashed tinned salmon.
Try serving a pouch containing meat, lentils or fish alongside some fresh ripe fruit or some cucumber sticks.
Try serving some savoury puffs alongside a peanut butter muffin and some berries.
READ MORE >>>The pros and cons of baby pouches and how to use them wisely here.

STORE-CUPBOARD SUGGESTIONS
What I love about using this simple approach to meals is that with a little preparation, you can make a meal in minutes without over-relying on commercial baby products. With a few essentials in the cupboard, the odd batch baking of muffins/pancakes and a well-stocked freezer you'll never be caught on the hop.
I have a whole blog post on weaning using store-cupboard essentials that you can read here.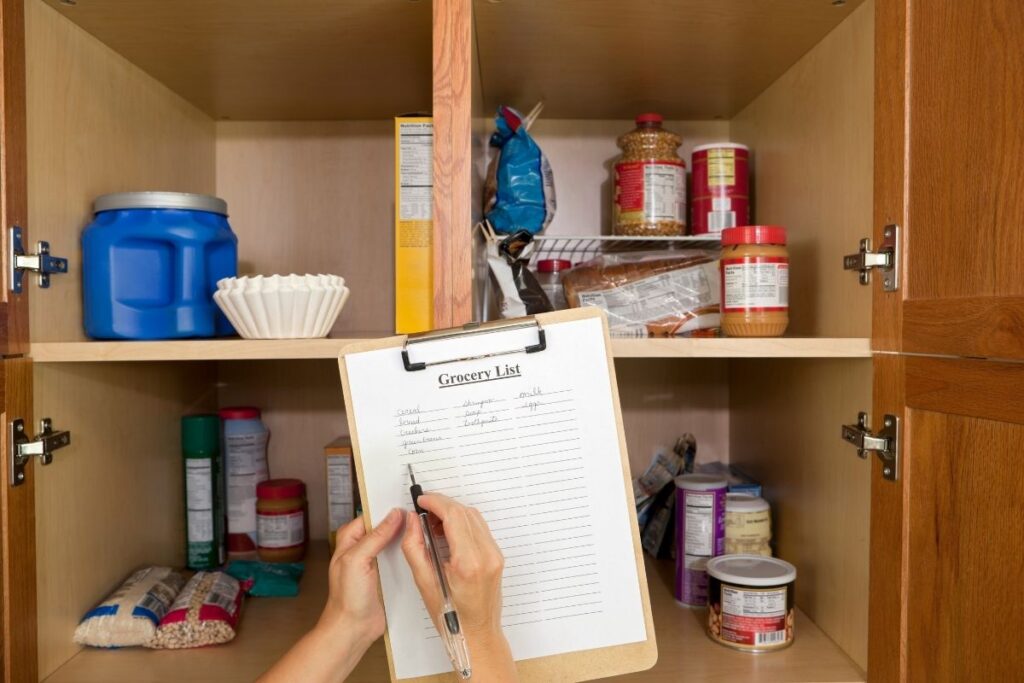 CAN MY BABY EAT WHAT I EAT FOR LUNCH?
Absolutely. Sharing meals with your baby is an approach I recommend all the time to parents. Not only will it save you time, but it's also a super way for your baby to learn about food and eating. Don't we all learn skills better by watching someone else?!
SANDWICHES: Try toasting the bread lightly to make it less doughy and therefore easier for your baby to chew. And choose soft fillings like tinned salmon mashed with yoghurt, hummus or egg mashed with yoghurt.
SOUP: Make your usual homemade soup with very low salt stock cubes. Then take out your baby's portion before adding salt (or a stockpot) to the rest. You can serve thick like a purée or thin with milk and serve from a little open cup.
TOASTED SANDWICHES: Again lightly toast and choose soft fillings. Two of my favourites are grated cheese and apple or grated cheese and carrot. Cut into fingers and allow to cool.
SALAD: Leaves can be a choking hazard for babies and young children. But foods like grated raw carrot or cheese are excellent to help them practice their pincer grip. Cucumber is another go-to food of mine because it requires no preparation at all. A lunch of grated carrot and leftover pasta tossed in smooth peanut butter ticks all the nutritional boxes with no preparation time at all!
READ MORE >>> Choking and baby-led weaning
EGGS: Eggs are the ultimate fast food and are such a great way to serve vegetables, leftover meat, tinned fish or cheese. Try frittata or omelettes, French Toast, Pancakes, scrambled or boiled eggs.
I hope these baby lunch ideas take some of the stress out of weaning. If you'd like more no-nonsense nutrition and feeding advice, then check out my online courses for weaning and feeding toddlers.
And why not subscribe to Solid Start and get tips on food, nutrition and feeding straight to your inbox every month?