Looking for finger food for your baby that's a source of iron? Look no further than these nutritious, cheap and easy tinned tuna fish cakes!
These fish cakes for babies contain three iron-rich ingredients.
Tuna, almonds and egg are all sources of iron. Tuna is a source of easily absorbed haem iron, and almonds and egg are sources of the less well absorbed non-haem iron.
READ MORE: 9 Everyday foods that are high in iron
Is tuna safe for babies?
It's best to avoid fresh tuna in babies, but tinned tuna once a week is fine. Try to choose tinned tuna with the least salt per 100g. Funnily enough, I've seen tuna canned in brine (salty water) with a lower salt content than tuna canned in oil. And the salt content seems to vary between different brands.
Is tuna a good source of omega 3 fish oils?
We know that omega 3 fish oils found in oily fish like salmon, sardines, mackerel and trout are important for a baby's brain and eye development. However, although tuna is technically an oily fish rather than a white fish, it's not a good source of omega 3 oils. So, try to include other types of oily fish in your baby's diet.
These baby fish cakes aren't just for babies!
They're also a quick and tasty meal or snack that's perfect for the whole family. Feel free to add some salt to your mixture after you've taken some out for your baby. And they taste great dipped in some sweet chilli sauce (not for babies, though!).
What do you need
A couple of medium-sized potatoes (white or sweet, it's up to you!), a tin of tuna, a lemon (you'll only need half juiced), some fresh herbs (parsley, coriander or chives work well) if you have them or some frozen herbs. Or leave them out! An egg (if your baby is allergic to egg, then a few spoons of natural yoghurt will do), some ground almonds for coating and some oil for frying. Rapeseed is my oil of choice, but olive oil is also fine.
What you need to do
The easiest way to cook the potatoes is to microwave them. So prick them all over with a fork (otherwise they'll explode!) and microwave for about 3-4 minutes until cooked through. The exact cooking time depends on the size of your spuds! Scoop out the cooked potato.
Then mix all the ingredients except for the almonds and the oil!
Form into little cakes. Personally, I pop on clean rubber gloves for this part as I hate the lingering fishy smell on my hands.
Once you've achieved the shape, you like coat in the ground almonds. Then heat the oil in a good non-stick frying pan and add the fish cakes and cook until golden.
Can you freeze these fish cakes?
Yes, they're perfect to batch cook at the weekend and stick in the freezer.
Tinned Tuna Fish Cakes (Iron Recipe)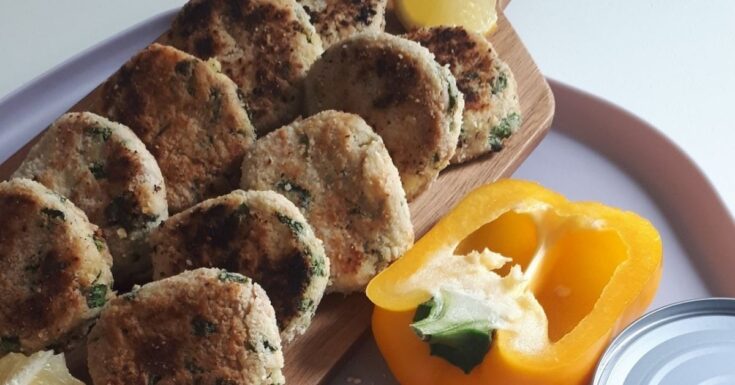 Looking for finger food for your baby that's a source of iron? Look no further than these easy, peasy fishcakes!
Ingredients
Two medium-sized potatoes
One tin (160g) tuna in spring water
Juice 1/2 lemon
A small handful of coriander or parsley (this isn't essential)
One egg
Ground almonds for coating
A little rapeseed oil for cooking
Instructions
Prick the potatoes with a fork
Microwave for about 3 minutes until cooked. The exact cooking time will depend on how big your potatoes are and your microwave
Scoop out the cooked potato flesh
Mix with the tuna, lemon juice, chopped herbs and egg
Form into little cakes
Coat in ground almonds
Heat a little rapeseed oil in a non-stick frying pan, add fish cakes and cook until golden and cooked through
Cool before serving to your baby alongside some cooked pepper sticks for added vitamin C to aid iron absorption
And why not
subscribe
to Solid Start and get tips on food, nutrition and feeding straight to your inbox every month?