INSIDE: Babies are big business! And when it comes time for weaning, it's no exception. There is lots of useful weaning equipment available. But do you need that thermometer spoon? Or the fancy baby steamer/blender combo? Read on and find out!
Weaning my first son was challenging. His food allergies and a highchair inherited from a work colleague (I'm never one to turn down a hand-me-down) contributed significantly.
Without a supportive highchair, the poor fella spent mealtimes slithering beneath the tray. Making eating (and feeding) very difficult.
I invested in a new chair the second time around, only then realising what a a difference this made to the weaning experience.
So, in this blog, I want to save you from costly (both money and mental energy) mistakes and give you a dietitian mum guide to which pieces of weaning equipment will make your life easier and which to avoid.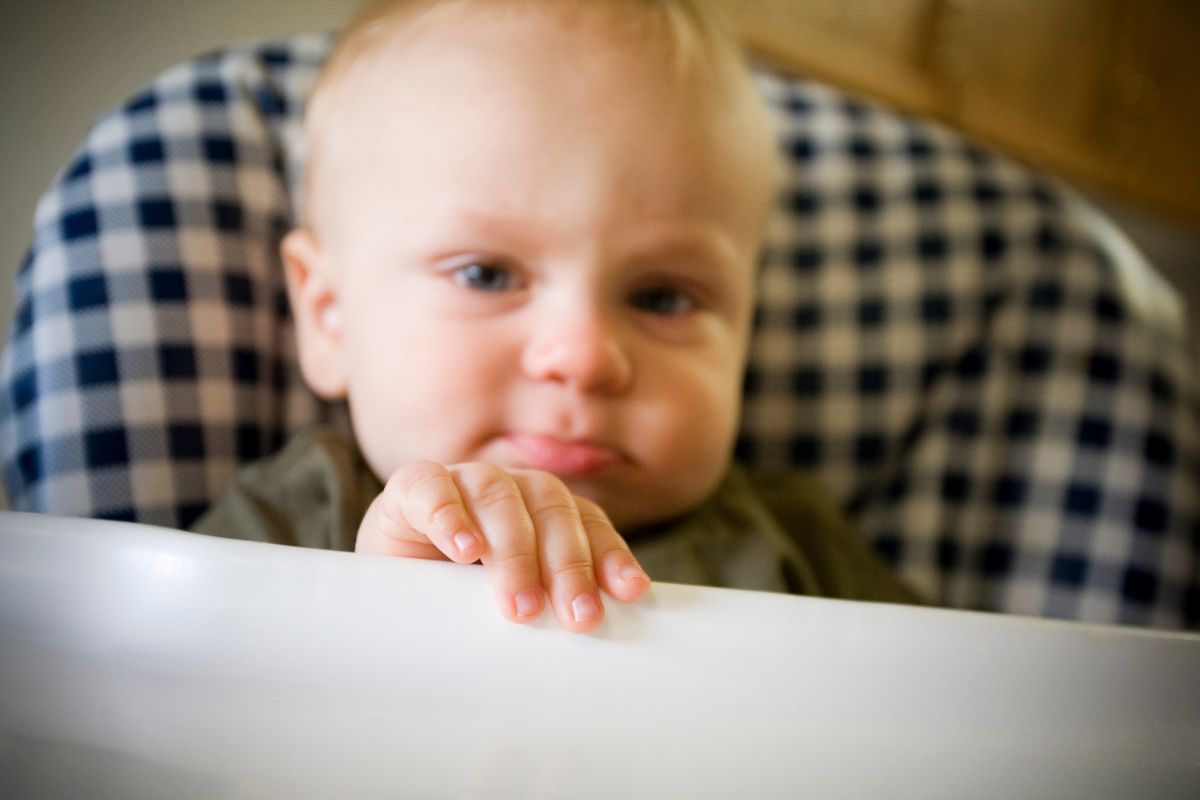 My son spent every meal slithering under the tray!
*This post contains an affiliate link. If you click on it and make a purchase a small amount of money is sent to me which I put towards the running costs of this blog. The price to you remains the same.
My top ten recommendations for weaning equipment
There is no shortage of weaning and feeding equipment on the market, but here are ten pieces of equipment that I think it's worth buying. The good news is that, apart from your highchair, the rest of the items are under €20 so won't break the bank. And the majority of these items are ones that you'll continue to use for years to come.
Highchair
Choose one that supports your baby in a proper upright seated position. This will be your most expensive buy, but you'll get years of use from the right one. Essential considerations are stability, easy to clean and budget.
Believe it or not, choosing your baby's highchair is more important than you might think.
A good highchair:
Helps your baby to eat safely

Is comfortable which encourages your child to try new foods

Allows for improved self-feeding

Encourages enjoyable family meals
Think budget
Think about how much you'd like to spend. Bear in mind the price per use! Your baby will be eating here up to 3 times per day during the first year and 5-6 times per day during their second and third years. So, it's worth investing in the right one. However, paying more doesn't always mean better. You can get good highchairs across all price ranges, and you may even pick up a bargain second-hand.
Think comfort and posture
This is the most critical factor in ensuring that your baby has the best chance to eat well and enjoy mealtimes. The secret to proper seating posture is the 90:90:90 rule. Your baby should be sitting with their hips, knees, and ankles all bent at 90 degrees.

Avoid all high chairs that slightly recline backwards.

Choose a highchair with an adjustable footrest. When baby's feet dangle, they don't have enough stability to eat. Think about how you feel when you eat on a bar stool! If you buy a chair without a footrest, try to find a way to support your baby's feet (sometimes it works to put the seat of a kitchen chair under their feet). Or if your baby's feet do not touch the footrest, get creative and build on some support.

For smaller babies whose knees don't even bend over the edge of the seat of their high chair just make sure that their thighs and hips are well supported in their seat. It's ok if they don't have a footrest yet.

Avoid choosing a high chair with a tray that's too high. You can always raise your baby up by placing a cushion or rolled-up towel under their bum!
Think easy to clean
As a mum, I think this is crucial for maintaining your sanity! Cleaning the highchair is still my most dreaded job.
Because whether you choose baby-led weaning or a combination of spoon feeding and finger foods, weaning and feeding young kids is messy. The mess is all part of the learning process. If there is no mess, there's something wrong!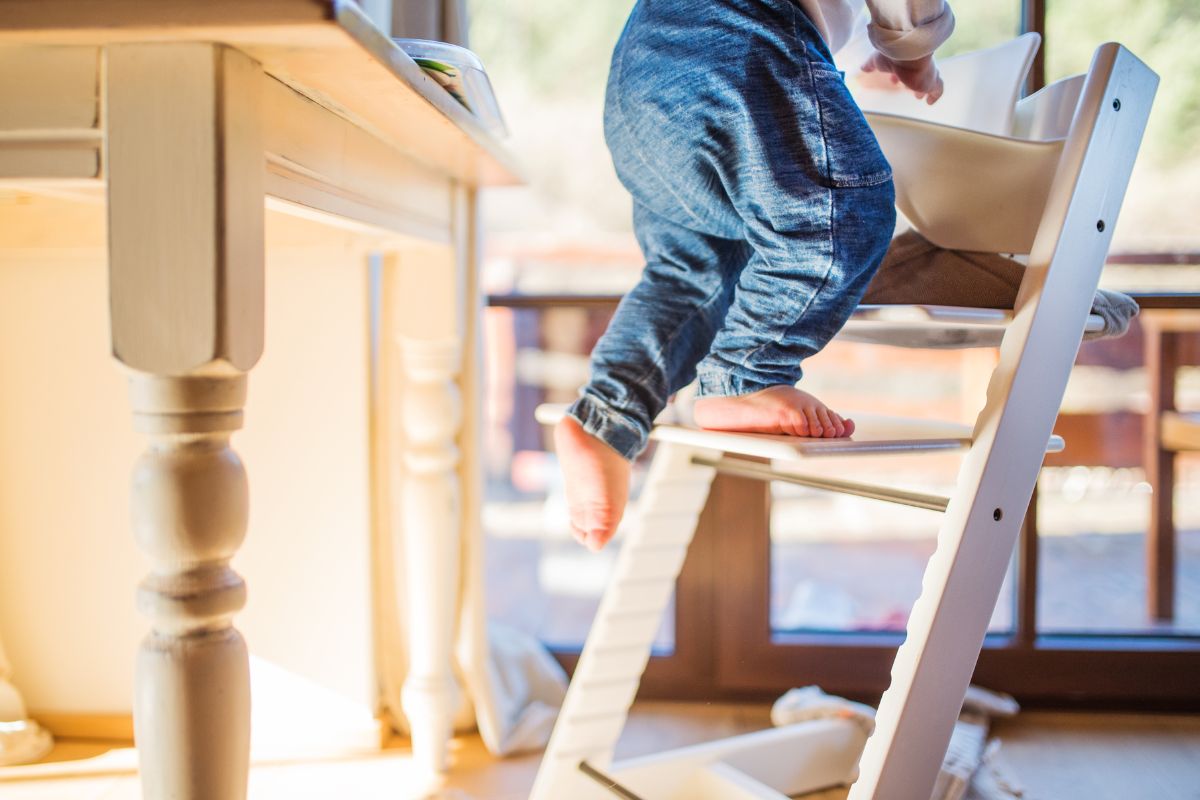 It's worth investing in a highchair that grows with your baby
Steamer
An electric or a cheaper saucepan steamer is the best way to prepare homemade purees and finger foods. Steaming is a handy and nutritious method of cooking food for the whole family, not just your baby. And from a practical standpoint, it's hard to boil finger foods- you spend most of your time chasing them around the pot testing to see if they're soft enough. Using a steamer is much easier. You can pick up a steamer easily in any homeware shop or from all the usual spots online.
Silicone ice-cube and trays.
The cheapest, most sustainable and space-saving way to freeze baby food is using an ice cube tray (and later on a silicone mini muffin tray). Freeze your purée or mashed food in the tray until frozen solid. Then push out the cubes and store in a clean recycled butter tub. Or if you're not as environmentally friendly a plastic bag. This way you can wiggle a lot into a small freezer.
READ MORE:  Portion sizes during weaning.
Handblender
Regardless of whether you're planning to spoon-feed or embrace baby-led weaning route, a hand blender is handy to have around. Use it to make purees, soups and sauces. Price-wise, you can spend a lot or buy one for as little as €14.
READ MORE: Baby led weaning, spoon feeding: The great debate!
Open and straw cups
Using an open cup rather than a non-spill sippy cup helps your baby learn the vital skill of sipping. This is better for your baby's teeth and helps with speech development. Babycup, Doidy cups and Cognikids Sip are good choices. When your baby's mastered drinking from an open cup, you might also want to give a straw cup a go.
A crinkle chip cutter
OK, this isn't essential, but they're so cheap that it's no harm having this in the drawer. This inexpensive, nifty piece of kitchen kit helps make finger foods that are hard to grasp more manageable by creating a greater texture for little hands. And who doesn't like crinkly food once in a while?!
Spoons
Learning how to get the spoon from the bowl to your mouth without dropping the contents can be tricky! Pre-spoons are perfect for the early days; they act like dippers rather than spoons with bowls and have short handles for babies. My favourites are Num Num Gootensils and Cognikids Dip.
Buy Solid Start Weaning Pack
Solid Start Weaning Equipment Pack
Contains:
2-pack Num Num Dipper Spoons
4-pack open BabyCups
Crinkle Cutter.
€30 (including postage to Ireland)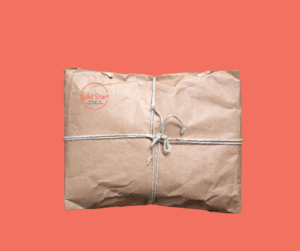 A grater
Chances are you'll already own one of these! As your baby develops their 'pincer' grip, grating raw foods like apple and carrot turns them from a potential choking hazard into safe and convenient finger food.
Bibs
You'll need some sort of coverall for your baby, like these from *Tidy Tot. And the degree of coverage depends on how much mess you can handle. Weaning has and needs to be messy. That's how your baby will learn about the look, smell and feel of foods. You can strip your baby down and do away with the bib, but this doesn't work so well in Ireland! Or you can choose a bib that catches everything.
Non-slip or silicone bowl or plate
This falls into the non-essential but 'nice to have' category of weaning equipment. It's perfectly OK to put finger foods directly on to your baby's tray and stick the food in any old bowl to start with. But if you want your baby to get up close and personal with the food (this is important for learning), then you'll want a non-stick bowl or plate that your baby can't fling over the side. A non-slip plate or bowl also makes it easier for your baby to manoeuvre the finger foods into their hands rather than chasing them around the table. Ezpz and Bamboo are two brands that do the job. But there are other cheaper alternatives too I'm sure.
Some equipment I don't think you'll need!
Fancy steamer/blender baby prep machines
Granted they might be handy, but they can make it a bit too easy to stick with blended food for far too long. In reality, the blending stage is a minimal phase in weaning your baby.
Thermometer spoons
It's crucial to reheat your baby's food properly, but you don't need their spoon to do this for you. Just use your common sense and make sure to reheat your baby's food thoroughly and then let it cool down to room temperature before serving.
Get Your Free Cheat Sheet
Ready to start weaning? This cheat sheet will give you an overview of the first six months.
Get the free cheat sheet. You'll get the cheatsheet, plus join my weekly newsletter! Just click here to get it and subscribe.
Print or download onto your phone.
Hang your cheat sheet somewhere handy, like the fridge. Or save it in a folder on your phone.
Ready, Steady, Wean-From Confused To Confident In No Time At All
Save yourself time, stress and money and get all the answers you need in one easy-to-follow online course.