I had my first avocado when I was mid-twenties! But times have moved on and now they're a common food, even in Ireland.
A ripe avocado is one of the healthiest foods to start your baby on as it is full of healthy fats and key nutrients to support their brain development and physical health. Besides being full of healthy fats, avocados are easy to find and can be served in a variety of ways, making them the perfect first food to start your baby on.
How soon can babies have avocado?
You can introduce avocados to your baby as soon as you start them on solid foods around six months old. They have a soft, creamy texture and mild flavour, making them one of the most popular choices for baby-led weaning.
LEARN MORE >>>> I'm confused. When is my baby ready for solids?
How do I know if I have a ripe avocado?
It's important to understand that the avocado you're giving your baby is ripe before serving. If you squeeze the avocado gently, it should be slightly soft. You can also check if it's ripe by removing the stem – if it's green underneath, it's ripe. If it's white, it needs more time. If your avocado is not yet ripe, consider popping it in the fruit bowl next to bananas to speed up the ripening process.
Are avocados a choking hazard for babies?
No foods are choke-free; however, ripe avocados present less of a common choking hazard than many other foods. When your baby is eating avocado, always make sure that you cut it into slices for finger food, blend in a food processor or mash to your desired consistency to make it easier for them to eat.
LEARN MORE >>>>> Choking and Baby-Led Weaning-Some simple ways to stay safe
What can avocado be mixed with for babies?
Ripe avocados have a neutral flavour, meaning they easily adapt well to various delicious recipes and flavours. Some great things to pair your avocados with are:
Fruits
Fruits such as lemon, lime, banana and tomato are all great options to mash together into a smooth puree or mash. Another great option is mixing avocado with lemon juice and lime juice to add extra flavour.
Vegetables
Cooked carrot or courgette sticks make perfect first dippers for avocado purée or mash. As your baby gets more confident with finger foods, then simply cut up vegetables such as bell pepper or cucumber for your little one to use as crudités. This is great if you are following baby-led weaning with your little one.
Herbs and spices
Consider adding some herbs and spices to your avocado slices, avocado puree or avocado mash to enhance its flavour and allow your little one to explore a variety of new tastes. Go easy on 'hot spices' like chilli. Chilli needs to be introduced with caution. Remember, your baby's mouth is a lot more sensitive than yours!
Protein source
Whether that's chicken, beef, fish or a vegetarian/vegan alternative, pairing avocado with a protein source is a great way to introduce a variety of macronutrients into your little one's diet. A simple tea-time option is mashed avocado with some tinned sardines or salmon. Or, for those following a plant-based diet, try mashing avocado with some tinned butterbeans.
How to prepare avocado for babies
The great thing about ripe avocados is that they are soft and require no cooking time, making them one of the most accessible foods to feed your baby. It can easily be blended into a smooth puree or mashed as a smooth or chunky puree.
Alternatively, another great way to serve avocado is as finger food, which is excellent for baby-led weaning. As avocados have a creamy texture, they can be slippery, so it's a good idea to provide grip by coating in a crumb or to spread on fingers of toast.
Avocado recipes for babies
Avocado is one of the simplest foods to work into your baby's menu and can be combined with a variety of foods and flavours to provide enjoyable meals for your little one. Below, you will find five of my favourite avocado recipes for babies that are simple and can be enjoyed by the whole family.
Avocado Puree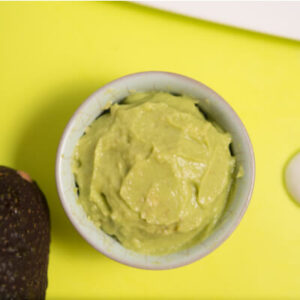 Avocado is a favourite first food for babies since it's not a common allergen, is full of healthy monounsaturated fat, and contains plenty of vitamins and minerals. Because it has a creamy texture, making it incredibly popular for new eaters. One great way of serving avocado to your little one is by making avocado puree – there's no cooking involved, and it's effortless to make with a small blender or fork!
To make this avocado puree, you'll need ripe avocado and fresh lemon if you plan to store some for later.
Step by step instructions
Halve a ripe avocado, remove the pit, and scoop out the flesh
Add to a blender, food processor or mash well with a fork
Blend, adding either breast milk, formula, cows milk or cooled, boiled water to thin
Serve immediately
If you plan to store for later, squeeze lemon juice over the top to stop the puree from turning brown
READ MORE >>>>> Have you heard of 'Vegetable First' Baby Weaning?
Avocado chips
Chunks or fingers of avocado can be difficult for little hands to hold on to, which is why these coated avocado slices are a great option as they give your baby some much needed extra grip.
To make Avocado chips, you'll need a ripened avocado and some milled chia seeds, Ready Brek or ground almonds.
Step by step instructions
Slice and peel an avocado, remove the pit
Add milled chia seeds, ground almonds or Ready Brek to a bowl
Dunk the avocado slices into the bowl to create a crumb
Serve immediately
LEARN MORE >>>> Finger foods for babies: Ideas to get started
Banana and Avocado puree
Adding raw fruit to your baby's mashed avocado is a great way to offer more nutrients. Plus, there's no cooking time involved for you making it super easy!
To make this deliciously flavoursome puree, you'll just need half a small ripe banana, half a small ripe avocado and a tablespoon of greek yoghurt.
Step by step instructions
Halve the avocado, remove the pit and scoop out the flesh
Pop halved avocado into baby's bowl (eat the other one yourself, I love it on toast with some cracked black pepper)
Add half the banana to the bowl and mash together with the avocado using a fork
Once mashed to your desired consistency, stir through the yoghurt
Serve immediately from a spoon, dipper spoon or on a finger food
Avocado dip with vegetable sticks
Little hands love dipping vegetable sticks into an avocado dip. The great thing about this recipe is that it can be enjoyed by both you and your baby. Plus, it's straightforward to make, is a nutritious meal and is full of all the vitamins your little baby needs to develop into a healthy toddler.
All you need to make this tasty treat are 1 carrot, 1 cucumber, avocado, lemon or lime juice, and olive oil.
Step by step instructions
Chop the carrot and cucumber into sticks, just like chips (or fries)
Take a pan and boil water in it on a medium flame. Once boiling, add the carrot sticks. You could also use a steamer to steam the carrot sticks. This is the easiest and most nutritious option if you have one.
Once the carrot sticks are soft (not boiled), remove and let cool down
For the avocado dip, take halve the avocado, remove the pit and scoop out the flesh
Place the avocado in a bowl and with a fork, begin to mash the avocado before adding lime or lemon juice and a dash of olive oil
Once the carrots have cooled down, your dish is ready to serve!
Avocado Spinach Spaghetti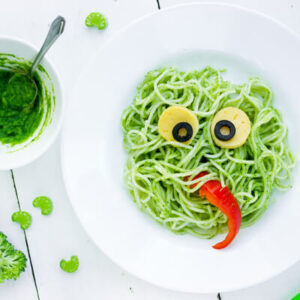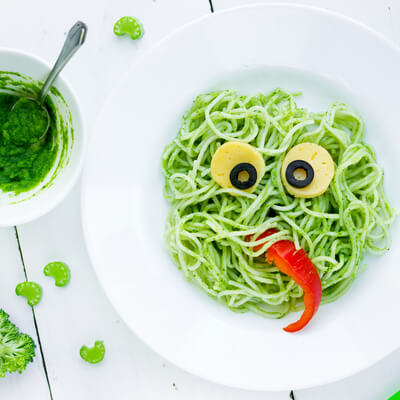 Avocado and spinach spaghetti is a quick and simple recipe that many children love. The only cooking needed for this recipe is boiling the spaghetti – no cooking is required for the creamy sauce – bonus!
All you need to make this tasty Spaghetti dish is a blender, an avocado, some spaghetti (or pasta of your choice), spinach and a dash of lemon juice.
I'm a huge fan of sharing family meals with your baby from the get-go. It saves you time and money, cuts down on food waste. And most importantly allows you to model good eating habits.
Step by step instructions
Cook the spaghetti until it's nice and soft (you might want to take yours out sooner).
As the spaghetti is cooking, pop the spinach, avocado and lemon juice into a blender with a splash of water and blitz until smooth. If the sauce is too thick, keep adding a tablespoon of water at a time until it's a creamy texture.
Drain spaghetti and add sauce. Mash or chop to the correct consistency for your baby. Or embrace the mess and offer it as finger food!
Serve immediately alongside an iron-rich food like some shredded chicken leg, flaked salmon or sliced tofu.
ALTERNATIVE RECIPE>>>>> Creamy Avocado Sauce-the perfect pasta recipe for babies